Graham Reid | | 1 min read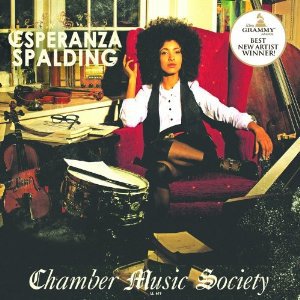 Because we could safely assume few aggrieved Justin Bieber followers will ever come to Elsewhere, it is safe to write about this hitherto little-known jazz singer-composer-bassist who won the Grammy for Best New Artist over the glorious child who has been the sensation of the Twitter Generation.
At first blush you can forgive their anger that their man -- boy? -- didn't win because he certainly qualified as new. And no one could argue that Spalding creates easy -- and sometimes even listenable -- music: at times she scats like a cat has got her ankle and the arrangments are often quite complex. It is "classical jazz" (she has a string trio) but with its roots in Latin and Ella Fitzgerald bebop as much as the orchestral music she grew up on (she played in the local comunity orchestra in Portland).
This is the third album under her own name -- but she also appeared on M. Ward's Transfiguration of Vincent as well as on albums with Stanley Clarke and Mike Stern, and she has played jazz festivals across Europe and the States, appeared at Obama's White House and on Oprah in 2010 . . .
Perhaps Bieber fans might have questioned the "new" part of her accolade rather than just weigh in with personal abuse.
This album is undeniably a complex proposition -- Chacarera is like a mini-suite of separate aspects -- but she opens with a lovely chamber-jazz treatment of the William Blake poem Little Fly and later a version of Dimitri Tiomkin's Wild is the Wind (which Bowie covered on Station to Station) which has turbulent undercurrents of piano, bass and accordion beneath her smooth vocal.
Apple Blossom features a less than affecting duet with Milton Nascimento, but What a Friend opens with off-beat funky bass and her wordless vocals (she's studied Flora Purim at a guess) then hits its stride with a swoop of strings and elelctric piano, and Inutil Paiszagem with its double tracked vocals and bass is utterly hypnotic as a light bossa piece.
So this is an album of challenges and enchantment, not the easiest jazz album you'll hear and yet it's initial complexity gives way to chivvying out those tiny details which make this not just sassy and smart but ultimately very appealing.
But "new" artist? The bitter twitters have spoken.
Like the sound of this? Then check out this.