Graham Reid | | 1 min read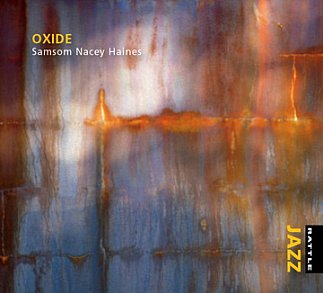 Although the names up top -- drummer Ron Samsom, guitarist Dixon Nacey and bassist Kevin Haines -- suggest a spare, piano-less trio, the guests here include guitarist Joel Haines, pianist Kevin Field, singer Chris Melville, Neville Grenfell on fluegelhorn and saxophonist Roger Manins.
And these players must have waited all their lives for a local label like Rattle Jazz -- committed to, and delivering, high class jazz albums from the covers inward -- to come along and allow for such a sense of relaxed freedom. The fact most of these players have appeared together on previous Rattle Jazz releases also suggests an ECM-like collegial feel emerging.
There is certainly a sense of intuitive understanding at work here, especially when guitarists Nacey and Haines get together on the lovely Locked where understatement -- a hallmark of much of this album -- is evident in the delicate approaches they separately adopt: Haines teasing out and bending notes, Nacey letting gentle sustain tell another story.
And later the more rocking Tricks of the Trade finds these two again squaring off to equally fine effect, never going the whole fusion/kiss-the-sky but keeping the soloing -- even when the wah-wah enters -- taut and grounded, neatly letting Samsom's crisp drums signal the stops/starts and possible turns. And giving bassist Haines some space in between which he fills with rhythmically direct and exciting tugs and runs.
That piece is at the most energetic end of this album which prefers to seduce (the warm opener Bad Lamb where Nacey announces his rounded and fluid style) and entice (Finish My Sentence which follows is a masterpiece of trance-like understatement from all players with Samsom providing a gentle wash of cymbals).
Here too are pieces (the eight minute Tribute to JM, the lovely The Lion with pianist Field's light and fluid melodic touch evident) which take their time to develop from melodic suggestions which are then explored, as well as swinging tunes which get to the head of the tune immediately but then leave the way clear (Ten Down where Haines' bass takes the first solo).
The All Nighter with Grenfell's gentle flugel is another highpoint, but -- good though he is -- Chris Melville's vocal track Come What May seems out of place here, rather too cruise-lite jazz in this context . . . especially as it comes before the more edgy, guitar-sizzle of the rather to short Silent Surface and the spring-heeled bop of Nickel Allergy featuring Manins.
So although nominally a trio album, that titular triumvirate is just the first among equals here on an album that is long on melody and intelligent understatement, but also delivers a gentle kick when required.
It would be a cliche to say something like "another fine release from Rattle Jazz". But cliches, by definition, embody a fundamental truth. And that is the truth.
Want more along these lines but different? Then check out this.