Graham Reid | | <1 min read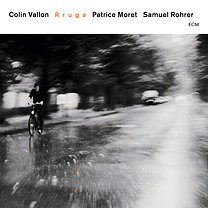 This is ECM piano trio jazz certainly, but young pianist/composer Colin Vallon brings something different and unusual to these 11 pieces, most of which are his originals or by drummer Samuel Rohrer. (There are two by bassist Patrice Moret).
It is hard to put your finger on but you might say his playing has the pace, phrasing and emphasis of a conversation -- and it turns out Moret is a Radiohead fan so has used some of Thom Yorke's vocal phrasing in his piece Telepathy which opens this album . . . and you sense that has infiltrated in other places on these pieces which deliver the pleasantly unexpected.
Vallon also introduces subtle Eastern European folk tune elements, Moret's slow arco playing introduces a slightly eerie and atmospheric on Eyjafjallajokull, Meral is a stately but neatly deconstructed affair over Rohrer's off-kilter percussion, Iskar is a melodic miniature in fewer than three minutes where not a note or moment is wasted . . .
There have been some rather generic ECM piano trio albums lately where you enjoy the surface but long for more substance.
This young trio from Switzerland deliver a consistently interesting ECM debut which has attractive and sometimes pleasingly puzzling surfaces, but also intellectual and emotional depth.
Different and interesting.
Like the sound of this? Then check out this.