Graham Reid | | 7 min read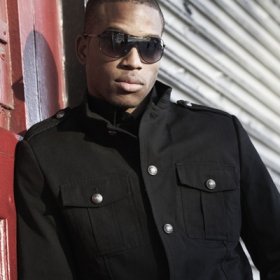 Troy Andrews – better known as Trombone Shorty – is one of the rising stars of the New Orleans jazz scene. But he had a head start, he was playing trombone in local brass bands when he was six.

He attended the same arts college as Wynton and Branford Marsalis and Harry Connick Jnr, got out and played with rock bands (Lenny Kravitz, was with U2 and Green Day when they played the re-opening of the New Orleans Superdome in 2006), sits in with numerous local bands including Galactic, and his album Backatown topped the Billboard Contemporary Jazz Chart for nine weeks last year.

He has appeared on magazine covers, in episodes of the television series Treme (filmed in the Katrina-damaged suburb of that name in New Orleans) and has been a star performer at the New Orleans Jazz and Heritage Festivals for many years.

He is also coming to the New Zealand National Jazz Festival in Tauranga at Easter, the only New Zealand date on an Australasian tour.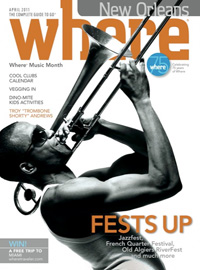 But we catch you at home briefly, Troy?

Yes, I just flew in about two hours ago.

Because last night you were playing with Derek Trucks and Susan Tedeschi, right? They are also coming to New Zealand soon.

That's right. We opened a show for them in the Birmingham Theatre in Alabama.

You have a profile in New Zealand right now not just because of the forthcoming festival but because the Jeff Beck Rock'n'Roll Party live DVD has you on it. In his liner notes he said you just happened to be in New York when the concert were scheduled, did you know any of those musicians when the call came?

I knew some of his band before that, the keyboard player [Jason Rebello] and Mr Beck himself, but I didn't know some of the guys on the stage.

But you play jazz and the stage is where you get to know people best.

(Laughs) Oh definitely.

If we look at the long history of jazz we can see how it changed in terms of influences from popular music: there was post-bop, post-Beatles and so on. You are post-Marsalis in way. What does that mean in terms of your style, what do you as a younger man bring?

Just being in New Orleans where the horns are very important, and this is a traditional instrument, is a factor. And we are just taking it to different levels because we are influenced by rock music and hip-hop. I'm 25 and I'm influenced by the music of my generation and I'm trying to find some way to incorporate those influences into my music.

There are no boundaries with us and we approach different styles of music and put it into one gumbo pot.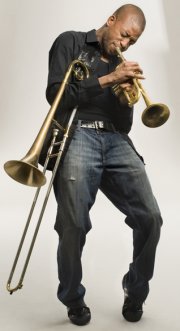 It has always seemed to me New Orleans musicians are more open to that, more so than perhaps in other cities. Even in New York there is a core of players who are insistent jazz be done in a certain way.

Yeah that's true, New Orleans is that melting pot and we all have connections to different styles, whether it be jamming with Dr John, the Neville Brothers or the Marsalis brothers. We all play with different bands. We might get a call to play with the Neville Brothers or Allen Toussaint and that has a big influence on what we are doing. We're not close-minded about what music should be, we just want to make music and put smiles on people's faces. At the end of the day we just want to have a big party.
Let's talk about putting smiles on faces because times are still very tough in New Orleans. I was talking recently to Papa Mali and he was saying just how many musicians had left and how the culture was being scattered. Is that fair observation from your perspective?
Treme is a different place since the storm. It's coming along but it's different from the Treme we once knew. A lot of people haven't come back, or different people came in and bought property and gouged the rent and some people just can't pay that. It's coming back though, a lot of people are still gone but the true New Orleaneans are working hard every day to get our city back to where it once was.

I see progress. This year was one of the biggest mardi-gras we've had since pre-Katrina. New Orleans is one of those places where, even if you live somewhere else, you just can't shake it.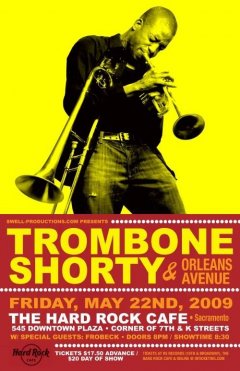 You've never been tempted to live anywhere else because this is the place that nourishes you?

Exactly. I travel so much but I gotta get back to New Orleans even if it is just for one day because I have to get my soul together. And musically I have to be part of the growth and feed off everybody else, because there is so much to be taught and learned here. It's just a wonderful place.
There is no other city in the world where you can have the Neville Brothers, Allen Toussaint, the Meters, Dr John and the Marsalis family and I can call them up and just go jam with them all in one night if they were playing. As a student of music and a fan, those people are my heroes who have done so much to create the sound of New Orleans and that is a pleasure in itself, to have these legendary people here.

I've never had a bad time there, nor a bad meal.

Oh no, I'm thinking about a good meal right now!

Because it is Friday. What does the weekend hold?

We just flew in and I had to go to my alma mater to go teach a class, tomorrow we play a French Quarter festival, then Sunday we fly to play in Tampa in Florida and we'll come back Monday and play a private show.

You are a busy musician but you also do film and television. You have had a part in Treme which is a television series we haven't seen here yet.

Yes, I've done abut three or four episodes. I play myself and its a fun thing. It's hard work and a different level of discipline to be an actor, and i'm not really an actor. The producer spent an enormous amount of time here just scoping out the city because New Orleans people would say if you want to portray our culture and image then you have to have it very authentic or you'll get run out of the city. But they went to the real musicians and consulted with them and they are doing a great thing. The Rebirth Brass Band is on there and you can literally walk out and catch the same thing happening on the street.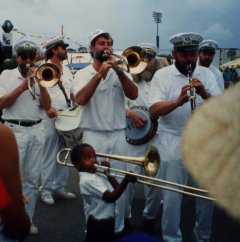 Let me talk about your background. You couldn't have done anything but play music, could you?

That's right. My brother James is a trumpet player and my grandfather was [songwriter] Jesse Hill and my cousins are in all types of brass bands around town. If hadn't played music I might have been the odd one.

What was the attraction of trombone when you were a kid?

It was really just a fun instrument and at the time my brother was very influenced by Louis Armstrong and Louis always had a trombone player sidekick. My brother made me that. On top of that it was probably one of the only instruments in the house that worked. But I fell in love with it. It reminded me of those whistles you have at birthday parties.

Outside of New Orleans, in jazz there weren't a lot of people playing trombone in the Seventies and Eighties. I remember seeing Robin Eubanks in New York maybe 15 years ago and it struck me what was possible on the instrument in a contemporary way.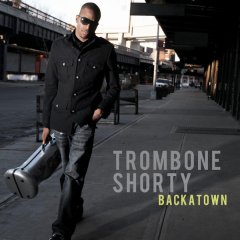 Right. It's one of the hardest instruments because a trumpet, piano, bass, saxophone or whatever you can just press the note and get it. But the trombone is a slide so you have to be very accurate and that makes it challenging.
But the different sounds and growls is amazing to me. That's the thing other instruments can't do and that's one of the beauties of the trombone.

Which we will hear soon enough. You are bringing your whole band down here for the Tauranga Jazz Festival.

Yes, I'm bringing my entire band – and we are going to bring a big party.
Like the sound of this? Then check out other interviews, articles and reviews at Jazz in Elsewhere.