Graham Reid | | 1 min read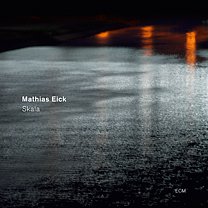 As mentioned in a review of one his earlier albums, The Door (here), Norwegian trumpeter Eick has an inclusive approach to his art and has played in many different contexts, from big bands to psychedelic rock groups and in small, introverted jazz outfits.
This time out he gets in two drummers (very discreet, you'd hardly know it), electric bass and piano (and guests on sax, harp and keyboards in a couple of places) for a collection of pieces which ever so gently push out from the overall mood of lyrical playing informed by place or people.
Edinburgh is a tight piece where his brooding trumpet works off a dark piano backdrop (those dour Scots?) before starting to stretch out into long lines which are increasingly sustained to create a mood of restrained drama. It doesn't sound inspired much by Auld Reekie, but rather the more fluid Spanish sound or the lonely airiness of saxophonist Jan Garbarek.
Oslo however picks up a real rhythmic pulse from the drummers and runs with it to suggest a vibrant city gradually coming awake with the bass and keyboards (Morten Qvenild) pulling the old city into the 21st century.
And Day After has a punchy quality which brings to mind Elton John's Benny and the Jets as re-imagined by a reserved Seventies jazz fusion outfit.
Elsewhere the title track is delightfully quiet and lyrical ballad with tenor player Tore Brunborg although it doesn't soar as much as it promises to do, and we might guess Joni is inspired by Ms Mitchell's Both Sides Now which is suggested in a couple of places.
This is a fine album although not quite as focused as many of the albums on ECM. By aiming for more, Eick has achieved slightly less.
A highpoint is the simple, sensitive and summery June (with Sidsel Walstad on harp) which conjures up a scene from Matisse or romantic Manet, in this instance less is more.
Like the sound of this? Then check out this.