Graham Reid | | 1 min read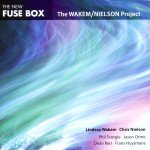 A little clarifying chronology here might be useful when teasing out the threads of this Auckland jazz group.
As I recall their debut album The Politiks of Jazz (just credited to Fuse Box) arrived in about 2000 and the group consisted of keyboard player Lindsay Wakem (who composed eight of the 10 tracks), guitarist Frans Huysmans, drummer Jason Orme and bassist Phil Scorgie. That was a very cool mood project and Huysmans' guitar was the fore in many places. Real nice.
A few years later they were back as The New Fuse Box for the album Another 3 Days (all tracks composed by Wakem) but Huysmans had been replaced by Dean Kerr, and Chris Neilson had come in on sax. That album had a slightly tougher sound but also something of a smooth Eighties/Brecker fusion feel.
Here the album's title appears to be The Wakem/Nielson Project. Their names are in bold, in lighter type are the names of Scorgie, Orme, Huysmans (guitar on one track) and Kerr. Also present is Kody Nielson on drums for one track (formerly of the Mint Chicks rock band and who has been in a duet with Bic Runga more recently).
So that clears that up then.
Nielson's sax playing here now has a deeper and more soulful sound (check out the gorgeous, emotionally deep ballad Blue West) and some of Wakem's classy compositions would seem to also lend themselves to lyrics (you can imagine a Tony Bennett or Joni Mitchell singing the effortlessly melodic lines on In the Mirror and Friday Vanishing Act).
But they also shift into other moods: Bossa Tossa is (as you might expect) a Latin-flavoured piece with multi-layered horns (very south of the border, margaritas at sunset); Close Relations has suggestions of film noir soundtrack (a moody midnight hue and dramatic surprise, Who Would Have Thought That? later on is the dawn of the following day); Kerr pulls out a beautifully rounded tone for the tempo-shifting Jimmy Steals Dan . . .
And Dance Me Round the Island is less inviting you to dance than bask in the warm, gentle glow of restful, nursery room keyboards and elevating sax. The ballad You Are Further And Further Away is an absolute delight with Nielson coming off like a more warm-hearted Garbarek.
At 15 tracks, this is a lot of music but the variety and emotional texture throughout is impressive.
Three albums in and the New Fuse Box is really sparking, albeit in a quiet and considered way.
Like the sound of this? Then check out this.