Graham Reid | | <1 min read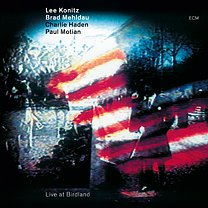 A 2009 ECM superstar session where Lee, Brad, Charlie and Paul played standards (Lover Man, Lullaby of Birdland, Oleo etc) from which this finely wrought, sensitive selection was drawn.
Pianist Mehldau offers exquisite, refined and sometimes dissonant solos which seduce or bring astringency in the turn of phrase.
Some of this is so spare as to barely be there (Lover Man), at other times, as when altoist Konitz steps up (on Miles Davis' Solar and Sonny Rollins' Oleo, both rejigged), you are transported to a smoke-filled session in 60s clubland.
Like the sound of this? Then check out this.