Graham Reid | | 2 min read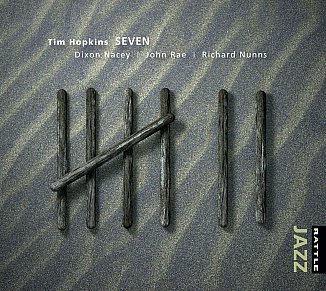 As with the Rattle album Ancient Astronaut Theory by Dave Lisik (interviewed here) and Richard Nunns, I was invited to write the liner notes for this release on Rattle's jazz imprint.
I was such a fine album, how could I refuse? So here is an expanded version of what appeared in the handsome CD sleeve . . .
"Jazz and freedom go hand in hand" 
– Thelonious Monk

The late American jazz critic Leonard Feather once described the art form he devoted his life to as "the classic music of the 20th century" because it reflected the concerns of its time. And there was a great measure of truth in that.
The early music out of New Orleans captured the spirit of freedom and cauldron of cultures in that great city; big bands provided that necessary release when times were tough; bebop caught the anxieties of the post-war era; free jazz could only have emerged parallel to the civil rights struggle; emotionally austere European jazz spoke to the spirit of a post-grad intellectualism for a generation which had known prosperity, education and freedom from the shackles of poisonous ideologies . . .
But in the final quarter of last century this great art form became uncoupled from its audience and its popularity waned.
The Wynton Marsalis-lead neo-conservative movement of the Eighties – a back-to-the-future ethic which went home but got stuck there – might have put jazz on the fashion pages and pulled well-dressed audiences into concert halls, but it has left few lasting signposts (the great neo-con albums anyone?) while marginalising exceptional players who didn't conform to the imposed style.
This once-inclusive art went into the business of excluding.
So, to outsiders, jazz entered the 21st century as fragmented, leaderless, a solitary child, and addressing its concerns to a small audience. But, ironically, this was actually a good thing.
Today the freedom of expression and myriad idioms for musicians to explore has lead to a jazz culture which is exciting, diverse, knows the vast history which it can draw from, and yet is free of doctrinaire constraint.
Witness this album under the name of saxophonist Tim Hopkins, recently heard on Rattle's release by Dave Lisik, Donated by Cantor Fitzgerald. The music here roams with confidence through post-bop (the economic opener One Set to Rest and the solo, snakes'n'ladders miniature Brown Frog), midnight blue moods (the astutely-named All Blacks and Blues) and references to melancholy and melodic Ornette Coleman of the 60s (Road From Perdition).
There are echoes and evocations of an ancient New Zealand with taonga puoro (traditional Maori instruments) played by Richard Nunns in the timeless The Sleeping Giants, later the musicians drop us into that urgent world of New York (Biting the Big Apple which is like Piet Mondrian's painting Broadway Boogie Woogie set to music) and looks to the far distance for their angular and bouncy 23rd Century Love Song (if love still exists then, this piece will be a fine backdrop for romance).
Although this appears under Hopkins' name, Seven -- as with the best jazz -- is a democratic affair.
The finely focused but also expansive guitar playing of Dixon Nacey (heard on the earlier Rattle Jazz album Oxide) can hardly go un-noted, and everywhere drummer John Rae brings clever and memorably melodic and rhythmic punctuations.
To hear this core trio at its most telepathically intuitive, consider the shifting sands and seamless exchanges of emotion and emphasis on Road From Perdition. Or – with Nunns – on that dark and light centrepiece.
To me, any album such as this – which speaks across time and place, styles and cultures – is that kind of jazz Leonard Feather had in mind, a music not mired in dogma but drawing from the world around it and the players' inner sensibilities . . . and here recast for this more diverse, disparate and exciting new millennium.
There are more Rattle Jazz releases here, and more on the Rattle label here.