Graham Reid | | 1 min read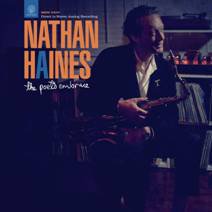 At the launch of this classy album recently, the graphic designer Andrew B White -- who had done the cover for both this and Kevin Field's Field of Vision -- made an interesting aside.
He noted that Haines' new album -- all acoustic -- sounded more like Field's previous one Irony, and that Field of Vision -- with electronic keyboards and vocalists -- sounded like Haines' previous albums. Good point, there had been a turnaround for both (and they played on each others albums) and both came out with great credit.
Especially Haines on this one which proudly proclaims on the cover it is a direct to stereo analog recording.
This is a jazz album cast in the classic style, the band live in the studio over two days and not resorting to overdubs, just blowing hot and cool as the music demanded.
It feels warm and real . . . and Haines had spoken of making a "real" jazz album.
He certainly has and -- using vintage gear -- this one has its reference points in the most spiritual side of Coltrane's ballads (the impressive, scene setting opener Realisation where even the title is a clue) and bebop energy (on Ancestral Dance)
With pianist Field playing a Steinway, bassist Thomas Botting and drummer Alain Koetsier, the album has the depth and breadth of timeless jazz and Haines, here playing tenor and not soprano as he often has, finds a maturity of tone and attack which is persuasive throughout.
Yusef Lateef's Eboness is the sole non-original among pieces by Haines and/or Field, and there is some wonderful playing from all here, notably on the bouncy Ancestral Dance and the midnight-blue title track ballad and Field's Offering right at the end.
Running the length of two sides of vinyl (and yes, there is a limited edition on record), this is not just classy but intelligently economic.
It's a real jazz album.
Nathan Haines answers the Famous Elsewhere Questionnaire here.