Graham Reid | | <1 min read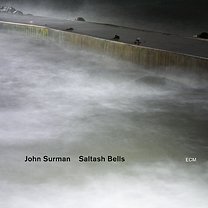 Sort of radio-without-pictures here from multi-instrumentalist John Surman who was scheduled to work with a photographer/filmmaker to document the area in Devon where he grew up.
When that project didn't pan out Surman just continued to explore the idea though his music in pieces which reference specific places (Dartmoor, Plymouth Sound etc).
With synthesiser frequently providing the evocative sonic landscape behind his woody saxes and clarinet, this one will be very much down to taste as to how you feel those elements -- seemingly contradictory, but not always so in his capable hands -- are reconciled.
And sometimes here they aren't which means pieces like the moody solo Glass Flower, quirky Aelfvin and the multi-tracked saxes on the Anglofolk sound of Triadchorum stand at variance to something like On Staddon Heights which doesn't stray too far from Surman's familiar tropes of synth/sax.
That said, the eight minute Winter Elegy and the dark title track also come from a similar synth/sax source and have a freshness which is engaging.
Surman is one of the most interesting of British jazz artists -- see profile here -- and is always worth hearing, especially on solo albums. But this canvasses familiar territory.
Might have been better with the pictures as it doesn't quite fill the screen as you might wish.
Like the sound of this? Then check out this.