Graham Reid | | 4 min read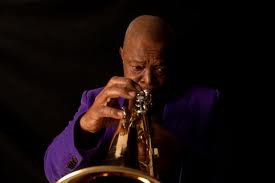 With a husky chuckle Hugh Masekela recalls himself as a curious child, some 70 years ago, who would wake, wind up the gramophone and sing along with every song.
"I was obsessed by music. I thought there were people living in the speaker of the Victrola and that's where I wanted to live. And that's where I've been living ever since."
South African-born Masekela – trumpeter, singer, composer – was also for decades an artist in self-imposed exile galvanizing international opposition to the inhumanity of apartheid. His lyrics reflected the struggles, culture and dignity of black South African's under the yoke of segregation.
As a teenager he had been in numerous bands and was an avid fan of American bebop trumpeters Clifford Brown, Miles Davis and Dizzy Gillespie, but after the Sharpeville Massacre in 1960, Masekela left his homeland to study at London's Guildhall, then in New York.
Through the late Miriam Makeba ("my best friend and sometimes girlfriend", they were married for two years until 1966) he came to American attention when playing on one of her popular albums.
"She, with Harry Belafonte, sent me to the Manhattan School of Music. She was on a first-name basis with Duke, Dizzy, Sarah and Ella so I was very lucky. And one thing lead to another."
That litany of jazz giants – Ellington, Gillespie, Vaughan and Fitzgerald – is indicative of the New York circles he moved in. Then he relocated to Los Angeles, played the Monterey Pop Festival and on bills with rock bands, and counted David Crosby (the Byrds, later Crosby Stills and Nash), Peter Fonda and Steven Stills (Buffalo Springfield then CS&N) as friends.
"When I got to LA everybody seemed to have been waiting for me," he laughs, "so I played all the r'n'b festivals and opened for Marvin Gaye, Stevie Wonder, James Brown and the Temptations, because I got into music when there were no categories. I lived in that space between them. Music kept discovering me. The weirdest people called me to play on their records."
Down the decades he recorded dozens of albums and had numerous guest spots – that's his trumpet on the Byrds' So You Wanna Be a Rock'n'Roll Star – but after a promising start Masekela's musical direction became shapeless.
After more than 20 years away he returned to Africa, lived in Botswana (Techno-Bush recorded there revitalised a flagging career) and in the mid 80s came to global attention when he suggested he, Makeba and other African artists join Paul Simon on the Graceland tour.
As a visible opponent of apartheid, Masekela lent cachet to Simon when the singer-songwriter was being pilloried for having broken the cultural embargo, an embargo Masekela was always sceptical about.
In 84 -- noting Shell, BP, Ford, Nissan and Toyota were all in South Africa – he asked, "Why should the pressure be on artists alone, just because of their high visibility?".
Although he sometimes openly doubted music's power to effect political change in South Africa that was his calling but, because he ignored the constraints of genres, reviewers and the public couldn't easily categorise him.
He dates his open-minded attitude from being a child in Kwa-Guqa township where – in the absence of television and much radio – he heard local bands playing African songs, swing jazz, children's songs and township jive. He heard but rarely saw the night singer groups "which is where people like Ladysmith Black Mambazo came from".
"I grew up when there were no categories or genres so I don't recognise them, much as I don't recognise African borders.
"I started piano lessons when I was five and was a graduate of the gramophone. As a teenager I was one of the biggest record collectors in South Africa. But I also know Debussy, Rachmaninov, Ravel and Bach, who is one of my favourites.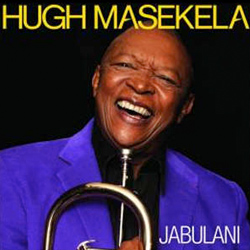 His most recent album Jabulani – his first since 2002 – is based on wedding songs he heard as a child: "The white flag would go up in front of the bride and grooms's yard and all week [the group] would be rehearsing. We all hoped to be old enough to sing in those bands."
Jabulani has been nominated for a Grammy in the same world music category as Ravi Shankar's Living Room Sessions Vol. 1, who may now be the sentimental favourite after his death in December. But awards mean little to him, Masekela insists.
"I didn't go into music to get nominations or awards, I went because I was obsessed with it. That album really doesn't belong to me. If it wins, the people of South Africa who engineered these songs from way back deserve the accolades."
In recent years he has returned to his homeland and sees progress ("Soweto two years ago was a dustbowl but today there's hardly an un-tarred street") but notes social improvements don't match demand. He sounds cynical about whether deeper changes have occurred: "The economy is still owned by the same elements as during apartheid and colonisation. The only thing the people have got is the vote and maybe a lack of police harassment."
He is circumspect about the legacy of the ailing Nelson Mandela saying the former president "made his contribution" but had a great team in Walter Susulu, Oliver Tambo and others: "I dream of a new team like them, but which is focused on the people."
Despite his slightly breathless voice, 73-year old Masekela claims to be in good health. He swims, walks and became a convert to the calming effects of tai-chi.
"Someone said to me I had too much of an edge and if I took up tai-chi it might do wonders.
"Now, seven years later," he says, a sandpaper chuckle anticipating his punchline, "you can't get me pissed off."