Graham Reid | | <1 min read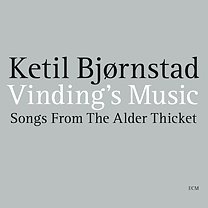 An interesting one which plays off the synaesthetic relationship between the arts and the performer.
Bjornstad is a Norwegian novelist and his trilogy about a piano student Aksel Vinding allowed him to consider how the emotions and storyline could be also realised in music.
A long established classical pianist himself with a number of albums on ECM -- with the likes of guitarist Terje Rypdal and cellist David Darling -- he took the opportunity (and invitation from ECM) to record this double disc, the first of his own improvised solo piano pieces and the second where pianists Gunilla Sussman and Jie Zhang (with the Norwegian Radio Orchestra under Christian Eggen, who also plays a solo) essay pieces by Mozart, Chopin, Debussy and others.
The weightless solo pieces are elegantly poignant as he focuses on passages in the novels to conjure up moods and emotions, and you don't need to have read a word to be drawn into this world of refined emotions.
The second disc which has the adagio from Mozart's Piano Concerto No. 23, Debussy's Claire de Lune, Samuel Barber's Adagio for Strings and other familiar pieces might perhaps be surplus to requirements for classical listeners.