Graham Reid | | 1 min read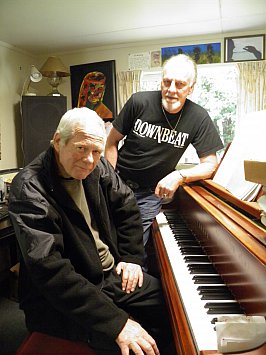 The plan would have been timely: a concert acknowledging the half century he'd known and played in bands with drummer Frank Gibson. But then everything changed.
"They gave me a year, that was a year ago," says 66-year old keyboard player and jazz genius McNabb about the cancer diagnosis he received, "So I'm going downhill gradually, losing weight. It's getting hard to eat and I had a heart op in 2004 so it's putting a strain on that.
"So I'm on the way out, but we're all on the way out in one way or another. It's just happening at a different time for me."
That time came last Sunday, a little over a fortnight after this final interview in his Auckland home.
McNabb – philosophical, still recording (two tracks for a duets album under Gibson's name, and recently the Anti-Borneo Magic double album with the astral-rock group Salon Kingsadore) – is one of this country's best, most heard but least known musicians.
With Murray Grindlay, McNabb has played on, written or arranged literally hundreds of commercials which have imprinted themselves in our collective consciousness -- Mainland cheese, the most famous Crunchie ad on the train, McDonalds, John Grenell's Welcome to my World Toyota ad . . . There were also songs like Sailing Away and the Red Nose Day theme, but as importantly the soundtrack to the television series Greenstone and the incidental music to Once Were Warriors.
It's likely every person in this country has heard at least one, if not a dozen, songs which have McNabb's fingerprint on them.
But that's only a small measure of what McNabb – also an accomplished artist whose work has appeared on a number of album covers – has achieved.
"I had absolutely no compunction about selling myself to the advertising world," he laughs. "I do them so I can make jazz records. I've really enjoyed making commercials, the only thing better is playing live music in an improvised situation. Apart from that, commercials and soundtracks is where it's at for me."
McNabb grew up in Auckland tinkering on piano as a child, almost entirely self-taught . . .
To read the complete interview with Murray McNabb conducted a fortnight before he died go to here. There is more at Elsewhere about Murray McNabb's career and albums starting here.