Graham Reid | | 1 min read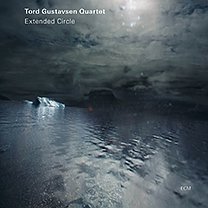 Norwegian pianist Gustavsen has made sometime entries at Elsewhere previously, his most notable being the exceptional Being There trio album (with bassist Harald Johnsen, drummer Jarle Vespestad) which was one of our Best of Elsewhere 2007 albums.
But where that album was about quietude, this one with his quartet (now with bassist Mats Eilertsen plus saxophonist Tore Brunborg) sometimes forces an entry, as on the second piece -- the brusque Eg Veit I Himmerrik Ei Borg, apparently a modern take on a traditional Norwegian tune entitled A Castle in Heaven if my guess is correct -- or delivers considerably less than on its promise.
Some tunes aren't up to much: in parts the featherweight Embrace could be a pallid update of some Seventies televison theme (Taxi?) . . . and any album which goes out with a 53 second "bass transition" into a tune as unmemorably pretty as Glow needed to prove its worth.
That said, early up it reclines into some unusually beautiful reveries (the restful brushes of Vespertad so discreet under Gustavsen's framentary melodies on The Gift which recall Bill Evans) and lovely MOR ballads (notably Staying There which Brunborg owns with his simple, smoky playing).
That said, most of this is such familiar territory as to be unaffecting for its lack of innovation, but at its best -- the almost algebraic and Middle Eastern ambience of the leader's Silent Spaces, the mysticism of his Devotion with discreet arco by Eilersten -- it does invite serious and engaging attention.
So here are 12 tunes in 52 minutes -- do the maths, nothing stretches your concentration span -- which are mostly mood pieces.
But, after some very high highs, this outing feels comfortable, conservative and like the return visit of an old friend who doesn't have a new story to tell.
The enjoyable comfort or the weariness of the familiar?
That said, as it always is with old friends visiting . . . just as they are leaving they tell you something which stops you in your tracks.

The posted tune here -- the beatutful, elegant and thoughtful closing piece -- stopped me just when I thought I'd heard the old stories again
It is a gorgeous, gorgoeus tune and reminds you what a good guest Gustavsen can be.
If you've read this far, play it, do nothing . . . and just listen.
Loveliness made audible.
Also: check this out by Gustavsen.
Consumer warning: the clip below is not of a track from this album but does give a sense of the romanticism in Gustavsen's playing. It is a trio tune When Breathing Starts from his much earlier album Changing Places.
.