Graham Reid | | <1 min read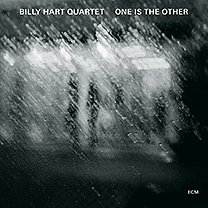 Although drummer Bily Hart seems to have been around since jazz was a young man -- he's now 73 and played in soul bands behind Otis Redding and others before seriously embarking on the jazz route -- this is only his second album for ECM after the rather patchy All Our Reasons in 2011.
But despite being on hand in the past for some muscular Miles Davis funk (On the Corner), as well as playing music which edged towards the free, the label is the natural home for this considered quarter which is pianist Ethan Iverson, tenor player Mark Turner and bassist Ben Street, all of whom are about three or four decades Hart's juniors.
Together they explore originals which pay homage to Lennie Tristano (Lennie's Groove) and Stevie Wonder (the softly swinging ballad Sonnet for Stevie), both by Turner, as well Hart's own unusually paced Amethyst where at the start he drops percussive punctuations like random rain and the tune leads to some more free playing where Turner flits from note to note like some romantic bird.
There are sensitive whiffs of blues here too (the gentle fluttering bop of Yard which nods to Charlie Parker) and the final track is a percussion-centered workout . . . but the real surprise is their elegantly respectful take on the gorgeous Rodgers and Hart tune Some Enchanted Evening from South Pacific.
Here the melody and the mood remain paramount, and you might wish for a whole album of such standards from a group which sounds utterly at home in the less-is-more school.