Graham Reid | | 1 min read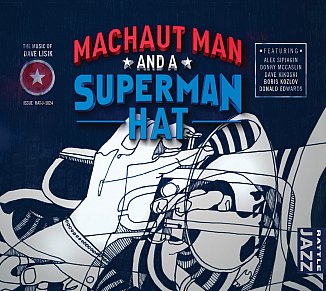 Canadian-born, Wellington-based composer/producer/arranger/etc Dave Lisik has appeared at Elsewhere a number of times previously but never quite like this.
Whereas previous outings under his name like Ancient Astronaut Theory (with Richard Nunns on taonga puoro) and Fate and the Processor (with saxophonist/clarinet and bassoon player Colin Hemmingsen) explored the intersection of overlaying of tapes, electronics and studio manipulation, or Donated by Cantor Fitzgerald; A Threnody was a lengthy improvised piece prompted by 9/11, this recording of eight pieces by New York musicians (seven originals and a recasting of Georgia on my Mind) is located more firmly in the exploratory late Fifties and Sixties of the likes of Thelonious Monk, Ornette Coleman, John Coltrane and Charles Mingus.
These are charts written over a number of years and are perfromed by a quintet of players Lisik has known for many years, among them Alex Sipiagin (trumpet), Donny McCaslin (sax) and pianist Dave Kikoski. The rhythm section is drummer Donald Edwards and bassist Koslov.
In these vigorous, twisting compositions you can hear elements of melodic deconstruction (the title track where Kikoski cooly winds it down to almost nothing before the horns come back in, propelled by Edwards; and at other times there is a muscular swing (the crosscross melodic lines of sax and trumpet on Katafuzees) or elements of Coleman's idiosyncratic compositional style (the driving but attenuated sax lines of Hooptie on the 405).
Lisik is a man with a sense of humour too: the title of the funky ballad You Can't Always Get a Wet Chihuahua refers to a Rolling Stones classic.
But the revision of Georgia is elegant and the band -- notably pianist Kikoski who plays a smart but respectful intro -- bring a tasteful melancholy.
If some of Lisik's previous albums have come from a rather different corner than many jaz listeners are used to, then this is the album to hook into.
It comes from the tradition but extends the jazz contract into what it should be about: letting damn fine players loose on music which challenges and gives them space to explore and put their own mark on the material.