Graham Reid | | <1 min read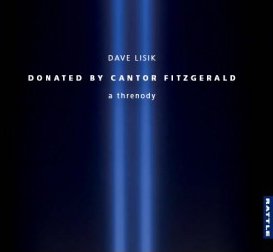 If you are reading this in New Zealand on September 11, 2011 -- the 10th anniversary of 9/11 -- Canadian-born, Wellington-based composer Dave Lisik will have performed this evocative, hour-long work in Virginia yesterday for re-broadcast on a New York radio station on the 11th as part of the day-long commemorations there.
Recorded in Wellington with pianist Amy Rempel, tenor saxophonist Tim Hopkins, bass clarinetist Colin Hemmingsen and with Lisik and Jorge Sosa on electronics, this improvised work is less demanding than its duration and conception might suggest.
It is commanding however (as it should be), but the piece moves through evocations of place (people bustling about on New York's busy streets, traffic, a sense of impending menace) and intimate moods so the listener is pulled into this changing soundscape world of chaos, melancholy and reflective passages and emotional confusion.
The title incidentally refers not to anything Jewish (a cantor can lead worship in synagogues and teach in Jewish schools) but to the financial firm Cantor Fitzgerald which was providing free space in one of the World Trade Center towers for Sarah Ferguson's children's charity.
None of the charity's employees were killed, but nearly 700 CF employees in their offices were.
For more on this recording go here.