Graham Reid | | 1 min read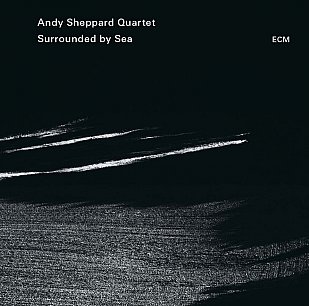 Those old enough the remember when British saxophonist Andy Sheppard emerged as a new wave out of Britain alongside Loose Tubes, Courtney Pine and others might be surprised a little by this elegant and very restrained release.
But he is on ECM and now nearly 60 so perhaps this is not so unexpected.
With his established trio (double bassist Michael Benita and the renowned drummer Seb Rochford) he invites in Norwegian guitarist Eivind Aarset to add layers of electronic-sounding drones and ambience to evoke the various states and shapes of the sea of the title.
Aside from the originals, the group deliver a beautifully understated treatment of Elvis Costello's I Want to Vanish (which Costello record with Anne Sofie von Otter) and a traditional Gaelic song Aoidh, Na Dean Cahal Idir which is split over three parts and is unfurled with a delicate melancholy.
The final piece is a tribute to the late Ornette Coleman, the short and meditative Looking for Ornette over sprightly off-kilter patterns by Rochford.
Of the originals (written separately or together by Sheppard, Rochford and Benita) one of the high points is ethereal Medication which opens so slowly that you feel the meds have really taken hold. But then the momentum and melodic depth pick up slightly as Aarset's guitar brings a chiming quality and Sheppard's sax yearns with a soulful ache and alludes to Middle Eastern melodies in the closing overs.
There is great beauty here (the slow reveal of The Impossibility of Silence) and, as always, Rochford's unusual mannerisms keep yu on your toes.
Very welcome.