Graham Reid | | 2 min read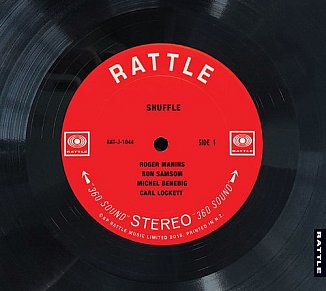 First a word about the cover, and in fact all the Rattle covers.
Right from their first releases the cover art and presentation of albums on Auckland's Rattle label – which cover classical, jazz, taonga puoro and more – have been classy affairs: engaging artwork and design, useful liner notes and, after a few releases, the gatefold hardback format.
Their few forays into vinyl have been equally ambitious (but, one suspects, very expensive and probably money losers).
But they've never resiled from professional presentation – much credit to designer UnkleFranc – but we wonder aloud why they haven't been entered or won for cover design at the annual music awards.
The cover of this new jazz album is witty and makes amusing sense of you know the old Columbia record labels of the Sixties which, because it appeared on albums by the biggest names in pop, rock, blues and jazz, was a hallmark of quality.
When Springsteen re-signed his Columbia (aka CBS, now Sony) contract in '85 he sat down, surrounded by label execs and suits and started to reminisce about the label according to his manager Jon Landau.
At the heart of his reveries, Landau said, was the Columbia Records insignia, "You know, the old red label with the black type – he said he always loved that label".
And that is what is referred to on this Rattle cover, an album featuring familiar Rattle jazz talents Roger Manins and Ron Samsom with revered US guitarist Carl Lockett (sessions and recordings with Jimmy Smith, Joey DeFrancesco, Jimmy McGriff, Chuck Mangione, Dakota Staton and many others) and New Caledonia-born Hammond organ player Michel Benebig.
This group played together in New Zealand in 2016 and these easy, slightly greasy grooves were recorded over a couple of days in Roundhead Studios.
Fitting the title chosen refers to the seemingly laidback sound and two of the pieces are penned by drummer Samsom who writes in the liner notes that the shuffle is sometimes referred to as the "flat tyre" for its distinctive rhythm but "The shuffle is the shit for me! It isn't just flat, it's broken, and that's where the music lies. It's so beautifully wrong!"
This is soul-groove jazz with a blues heart and on pieces like Blackwell (written by Manins, the title referring to drummer Ed who played with Ornette Coleman, Eric Dolphy and others?) there is a slippery swing which Lockett flies across the top with such consummate ease the he makes the difficult seem effortless, the steps back to comp while Samsom keeps a swirling undercurrent going as Manins takes flight.
Classic bebop swing.
Benebig's Dog Funk Walking goes right back to a blues-stroll, and three of Manins' other pieces all have shuffle in their titles: Shuffle One (Big Leg Shuffle), Gout Foot Shuffle and Hungry Pig Shuffle.
These titles alone – Samsom's are BB Gun (a moody stalking-after-midnight opener) and the finger-snap swing of Beep – tell you there is a real sense of shameless enjoyment being had here.
Just as that smart cover looks back with a sense of nostalgia and an iconic reference point so too do these tunes which should appeal to everyone from Grant Green and Jimmy Smith fans to those who have followed the extensive recordings of locals Manins and Samsom.