Graham Reid | | 1 min read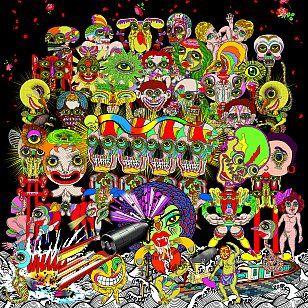 Jazz musicians are renown for their sense of time, although – if this album is any measure – perhaps not for their timing.
Arriving fully 18 months after the 50th anniversary of the Beatles' Sgt. Pepper's – and coinciding with the exceptional remaster/reissue of their follow-up The Beatles (aka The White Album) and the Christmas rush – this stellar interpretation of Pepper somewhat missed the boat . . . and arrives as everyone left on the wharf went off on holiday.
Maybe it will stand a better chance when it gets vinyl release in mid-January when the cover will look impressively large.
But let's draw attention to it now because there are some terrific "impressions" here by the likes of British saxophonist Shabaka Hutchings, pianist Sullivan Fortner (on the recent Cecile McLorin Salvant album), bassist Miles Mosley who has played on Kamasi Washington's albums, Onyx Collective, percussionist Antonio Sanchez, guitarist Mary Halvorson, The JuJu Exchange and more (for who does what, see below).
Chicago beat-maker and percussionist Makaya McCraven (and band, unfortunately uncredited on the download) offers a gently trippy Lucy in the Sky; Wildflower (Idris Rahman on flute and sax; bassist Leon Brichard and drummer Tom Skinner) use Getting Better as a groove-riding vehicle for spiritually-inclined music in the manner of the Coltranes John and Alice; Mack Avenue pianist Cameron Graves brings unexpected gravitas and urgency to Fixing a Hole; cool trumpeter Keyon Harrold delivers a yearning She's Leaving Home . . .
Attention perhaps naturally alights on two tracks Within You Without You and A Day in the Life; on the former New York's Onyx Collective beam in the more languid spirits of Sun Ra and Eric Dolphy for a close reading, and on the latter the Juju Exchange aim for a more MOR, occasional Latin approach, which doesn't really cut it.
But overall there is some fine playing on tunes so familiar they become more demanding than they might seem.
And more importantly perhaps, a useful introduction to many contemporary jazz players – none of whom, at a guess, were alive when the album in question was released.
Tracklisting and players
Sgt. Pepper's Lonely Hearts Club Band performed by Antonio Sanchez
With A Little Help From My Friends, Mary Halvorson
Lucy In The Sky With Diamonds, Makaya McCraven
Getting Better, Wildflower
Fixing A Hole, Cameron Graves
She's Leaving Home, Keyon Harrold
Being For The Benefit Of Mr. Kite!, Brandee Younger
Within You Without You, Onyx Collective
When I'm Sixty Four, Sullivan Fortner
Lovely Rita, Miles Mosley
Good Morning Good Morning, Shabaka & The Ancestors
Sgt. Pepper's Lonely Hearts Club Band (Reprise), Antonio Sanchez
A Day In The Life, The JuJu Exchange