Graham Reid | | 4 min read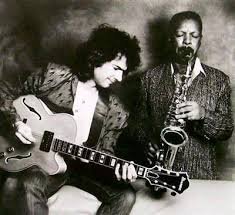 After more than a decade as the golden guitarist at ECM cracking commercially successful albums (by jazz standards), selling out concerts and winning critical acclaim, Pat Metheny was itching for freedom.
At 23 he'd told Downbeat "I have as much chops as anyone playing. But I don't want to be thought of as a hot, young guitar player" and "I'm thinking of the long run, not just next week. It's my composition that I feel is important."
In that same article published during the fusion era – a category he rejects and claims not to understand – he also said of ECM boss Manfred Eicher, "if Manfred had his way every album would be six ballads and a bossa nova for an up tune".
He laughed when he said it but even then, with just two ECM albums behind him, Metheny was champing at the bit.
He said that his current album Watercolours – his first with Lyle Mays who would become his longtime keyboard player/co-composer – was "a pretty laid-back album by my standards. The next album will be practically a rock record. Very powerful."
He also said that ECM was better than most, but after nine more albums he and his Pat Metheny Group left the label.
His first outing (with Mays) was the soundtrack to The Falcom and the Snowman which featured David Bowie on the hit single This is Not America.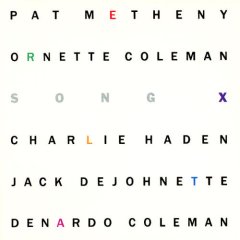 Then there was the great leap left with Song X on Geffen, his new label.
It was Metheny on guitars and guitar synths with Ornette Coleman, bassist Charlie Haden and drummers Jack DeJohnette and Denardo Coleman.
Metheny had recorded a number of Coleman pieces in the past, from Round Trip/Broadway Blues on his debut Bright Sized Life and Turnaround on 80/81 with Haden and DeJohnette. There were also two Coleman compositions on Rejoicing so when he and Coleman collaborated they were on a strong platform.
Not that everyone got that.
The Times critic Richard Williams said Song X was "practically unlistenable" but Graham Locke said it "nominally Pat Metheny's LP [but] is Coleman's in spirit".
He said it marked a new treasure for a jazz genius (Coleman) and credited Metheny for giving the saxophonist/violinist more space and opportunity than the American record industry had offered him in the previous decade.
This conversation about Song X and Coleman – who Elsewhere had the pleasure of meeting and interviewing in New York, and mentioned that to Metheny – came about when the guitarist was being interviewed for a Listener profile in advance of his appearance at the Auckland Arts Festival in March 2020.
These comments were so specific that there was no place for them in that wide-ranging interview so they are published here for those curious about this one-off in both Metheny and Coleman's catalogue.
The album had an expanded reissue in 2005 which Metheny mentions.
Let's talk about Song X and your work with Ornette whom I have met and always admired. I understand there were long conversations and explorations before the actual recording. How did it come about?
It sounds like we are similar then. I got hip to Ornette when I was very young and I didn't even understand what his thing was. I remember a few years after I was a fan, maybe I got a subscription to Downbeat or something, and I'd read abut fights starting to break out [over his music] and I was thinking 'What?'. Because to me as a kid it just sounded like they were having a lot of fun playing, that was the main thing for.
Also I recognised Charlie as my brother right off.
And Charlie was central to Song X.
Charlie and [drummer] Billy Higgins and I played together non-stop for about three years, whenever I wasn't with my regular band I was in that trio thing. I just kept alternating between the two.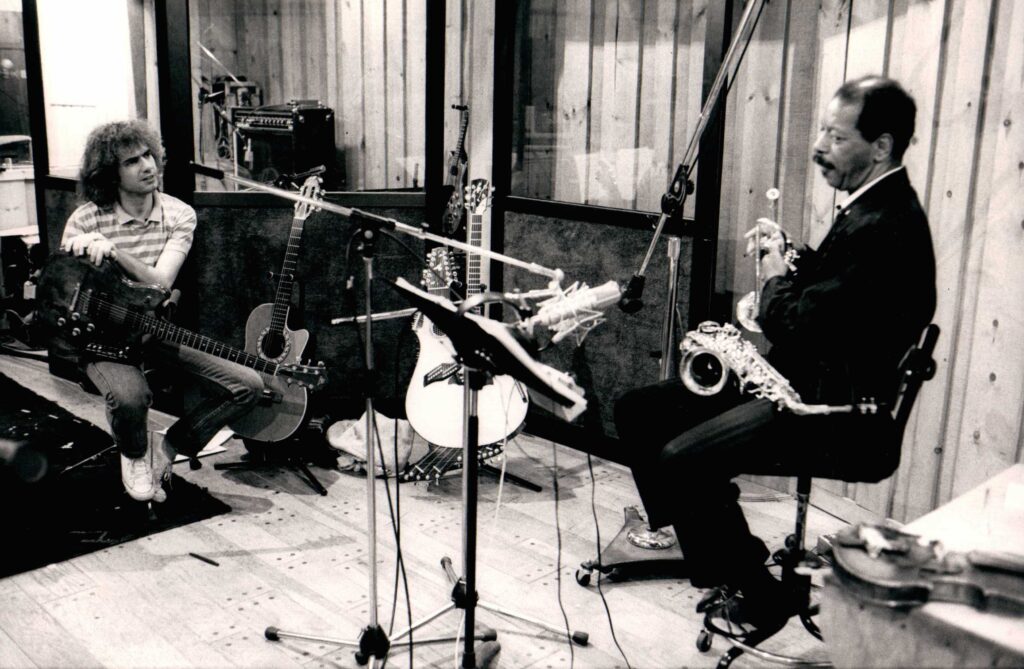 Ornette came to hear us a bunch of times and that was in the middle of that period when he was doing Dancing in Your Head, it was his thing at that time. But he and Charlie had not played together at that time for about 10 years and Charlie was really missing it.
Ornette came to the Village Vanguard two or three nights in a row and he said, 'We've got to do something', and I was like 'Okay!' and Charlie was 'Great!'.
So we came up with this idea that we'd have Jack [DeJohnette] play – Ornette had never played with Jack – and he loved Denardo who he has his unique thing going on.
As it happened Ornette and Denardo and I spent about a month, five weeks maybe, just playing eight or ten hours a day. That was the best part of it for me, we just got to know each other and spent a lot of time hanging out . . . and right at the very end Charlie and Jack came in and that aded another thing.
But even by that time Ornette and I had quite a thing going on.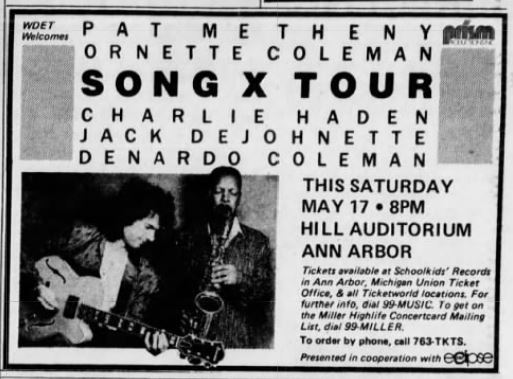 But like most records at that time, it was done very quickly. The main headline for me with Song X was that it happened so quickly and I had like two days to mix it then it had to get mastered and then it had to come out quickly for whatever reason.
But there was so much material and I was so exhausted because we'd played so hard, and it was all on me to put it together.
But I knew all along it could have been a whole lot better and it was only 20 years later I was able to remix it and CDs had come along and there was room to put the whole thing on there, because there had been a bunchy of tunes we had to leave off the vinyl.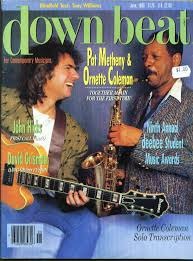 That was something very special for me.
And if you got to hang out with Ornette then you know he was one of the most beautiful people, just the greatest, the best guy.
.
.
The expanded 1985 reissue of Song X – much better and more interesting, and more fun, than the first LP release – is available on Spotify here.
Ornette Coleman died in June 2015 at age 85. There is a lot about Ornette Coleman at Elsewhere starting here.