Graham Reid | | 2 min read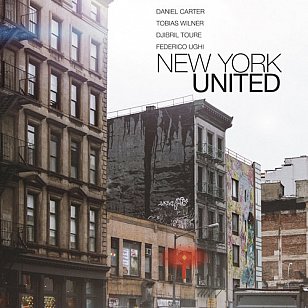 They say when you get a dealer you can trust, someone who is reliable and knows what you need, then stick with them.
So it is for me with Troy at Southbound Records in Auckland who, late last year, guided me to the excellent Radical Invisibility album featuring the prolific, septuagenarian New York saxophonist/flautist/trumpeter Daniel Carter.
It has rarely been away from my turntable since and so as soon as lockdown was over I was back at Southbound to pick up a record I knew they had . . . and asking Troy for another Carter recommendation.
He remembered he'd suggested Radical Invisibility previously – a good dealer know not just what you need but what you've had – and guided me to New York United of the few Carter titles they had.
It would be different, he noted.
And pleasingly it certainly is.
On this outing released last year, Carter is joined again by longtime drummer Federico Ughi but they are here alongside bassist Djibril Toure (Wu Tang Clan bassist) and on electronics, synths and beats, Tobias Wilner of Blue Foundation (evocative music for the Twilight TV series).
So here be free jazz – they went into the famous Tedesco Studio in New Jersey with no charts or preconceptions – by musicians who have worked together previously and have an intuitive secret language.
Later mixing and production by Wilner may have given shape to some of these four pieces on the record (a 15 minute fifth is included at Spotify) but what we hear is quietly exciting, more restrained than the configuration might suggest and, as before, Carter on trumpet delves deep into some of that early Seventies sound of Miles Davis.
But here the Davis funk of those times is shaved away and the subtle synth beats sit with Ughi's acoustic drums to create a innercity sound of tension, tenement blocks and a sense of urban anxiety'n'acceptance.
Each piece is named after a street in NYC (Canal, 125th, Nostrand and Flatbush avenues) so the evocations are different.
For example 125thStreet – a major thoroughfare in Harlem – opens as a tense piece of hard-edged drumming, lonely trumpet over the synth wheeze of trucks and strident day-long busy-ness then devolves into drum drama and early evening quiet. Then a kind of oblique-funk street strut near midnight.
That a piece of music can be so visual speaks volumes for the players ability to evoke and invoke.
At more than 17 minutes, Nostrand Avenue – which bisects Brooklyn – takes you on a different journey again. Sounds like it starts at the naval yard end to these ears.
If Daniel Carter is a new name to you (it's certainly memorable in the All Black Nation) then simply dive in – with Troy's advice perhaps – and discover exploratory work of a tireless musician who has more albums his catalogue than Fela Anikulapo Kuti, and has recorded with Yo La Tengo, Peter Kowald, Yoko Ono and dozens of others.
Another discovery.
.

New York United is available on limited edition (300 copies) vinyl through 577 Records in Brooklyn or Southbound Records in Auckland, or is here on Spotify with a 15 minute extra track East Flatbush.