Graham Reid | | <1 min read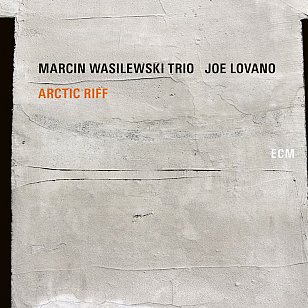 Regular readers of Elsewhere's jazz reviews will have encountered pianist Marcin Wasilewski's trio either under their own name or on albums with Tomasz Stanko. The trio's Faithful album was among our best of 2011 releases.
And of course tenor saxophonist Joe Lovano has been frequently reviewed (and is interviewed) at Elsewhere.
So their first-time pairing on the ECM label should be of considerable interest, especially as it reaches across from that more austere Eastern European ethic and Lovano stepping away from his more customary style into warmly woody and exploratory playing to create something mutually challenging which is experimental (the spontaneously improvised Arco), offers suspended delicacy and impressionist (the gorgeous Fading Sorrow, the flickering embers of A Glimpse), more free playing (parts of Cadenza which is a beautifully organic ballad) or quietly enchanting (the smoky, opening ballad Glimmer of Hope).
They also offer two treatments of Carla Bley's Vashkar: the first a subdued outing with Wasilewski to the fore in rippling runs before Lovano's flittering entry at the midpoint; the second variation reverses the order with Lovano peeling a way into the melody before a solo of remarkable, European classical delicacy by Wasilewski.
And the busy, angular On the Other Side takes a trip onto urban streets where urgency and haste are the defining features.
Because of the calibre of these players it goes without saying that this measured, engaging and thoughtful album is highly recommended.
.
You can hear this album on Spotify here.