Graham Reid | | <1 min read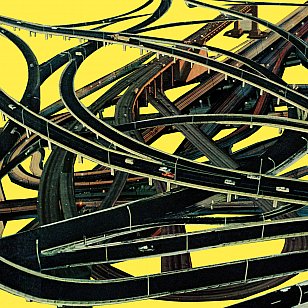 We known absolutely very little about this Toronto-based three-piece.
But after enduring the angst of Imagine Dragons ("I find myself in pieces, there are pills on the table" in the opener of their latest album) and a bunch of other artists whining about their lives or creating some fake image of themselves, there was something refreshing (if a bit early REM-familiar) about this band who open their debut with the title track about just getting out of the city and away from cars, creeps, bars, houses, nosey neighbours and so on.
But they don't moan about those things, just tick 'em off while they – Motorists after all – get in the car and drive away from it all. Then get away from the country, the commune . . .
Simple, huh?
Thereafter they serve up thoughts about social and emotional isolation but mostly sound like they're very happy to be playing in a band rather than bemoaning these trying times, and they deliver a dozen songs in fewer than 40 minutes. You do the maths.
Touches of motorik drums, the tautness of the Feelies/early Talking Heads and Nineties pop'n'jangle make this one of those absolutely non-essential albums you can simply enjoy for its small but easy delights.
.
You can hear this album on bandcamp here