Graham Reid | | <1 min read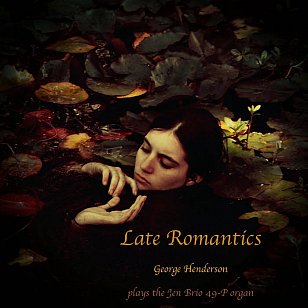 In a beautifully evocative and appropriately Ophelia-referencing cover by photographer Hayley Theyers comes this intimate interpretation by George D Henderson (the Puddle, New Existentialists) of two poems by the Romantics (Byron, Yeats) interpolated with instrumental passages.
These poems praise the enchantment of a woman (Byron's She Walks in Beauty) and drink/death as only the Irish can do (Yeats' A Drunken Man's Praise of Sobriety).
With Henderson's voice multi-tracked and mesmerisingly out-of-synch, these brief poems are supported by Jen Brio 49-P organ (which has an in-built rhythm option).
The organ can be somewhat cheesy in a pop context but Henderson here uses it as a moody and evocative soundbed or to induce a kind of warm torpor in the slow instrumentals (notably on his title track, Ghost Mope being a little more chilly).
This is perhaps a vanity project in that it would have a limited audience, but that shouldn't put anyone off.
Henderson says of the mini-album it is "designed to be listened to in a state of lassitude or languidity, whence dreams may come".
Reason enough to take 18 minutes out of your day and get pleasantly lassitudinous.
.
You can hear and buy this album (and others by the New Existentialists) at bandcamp here