Graham Reid | | 1 min read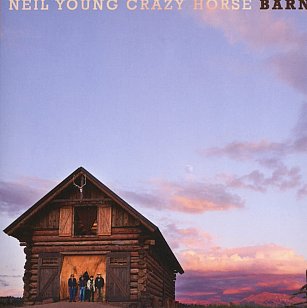 Last February Neil Young – who turned 76 in November – released a superb album Way Down in the Rust Bucket with the band Crazy Horse.
It went past most.

Hardly surprising given in recent decades Young, in addition to releasing new albums, has been hauling releases from his voluminous vaults.
A month after Rust Bucket– 145 minutes recorded live in 1990 – he added another live album, Young Shakespeare, recorded solo in 1971.
In August there was yet another archive dip, Carnegie Hall 1970.
And still they came . . .
With typically careless disregard for commercial imperatives – few sensible people release a new album just before Christmas – Young delivered Barn in early December.
It too went past most.
Recorded with Crazy Horse – bassist Billy Talbot, drummer Ralph Molina and longtime fellow-traveler Nils Lofgren on guitar/keyboards replacing the retired Frank Sampedro – Barn is mostly the polar opposite of Rust Bucket.
Where that album frequently burned with guitar fury, extended jams, classic material (Like a Hurricane, Cortez the Killer, Cinnamon Girl) and rowdy rock (Farmer John, Fuckin' Up), Barn announces itself with the acoustic reflection of Song of the Seasons with Lofgren – who is also in Springsteen's E Street Band – on accordion.
That mood returns for the hokey country song Shape of You about his wife since 2018, Daryl Hannah: "You changed my life for the better . . . stars scatter in the shape of you".
It – and the makeweight Don't Forget Love -- is another of Young's many lesser moments.
Those who favour the rowdy, loose-limbed Young/Horse signature style will find it on Heading West, the eco-conscious and angry pessimism of Change Ain't Never Gonna Come and blistering Human Race, and his autobiographical Canerican where Young and Lofgren square off.
Then there's the mystery and menace of the eight minute-plus Welcome Back and They Might Be Lost. On the latter he sings, "the jury is out on the old days".
Barn – Young's 41ststudio album – is a decent addition to the intermittent Young/Crazy Horse catalogue, but unpersuaded jury members should seek out the old days of Way Down in the Rust Bucket.
.
You can hear this album on Spotify here.