Graham Reid | | <1 min read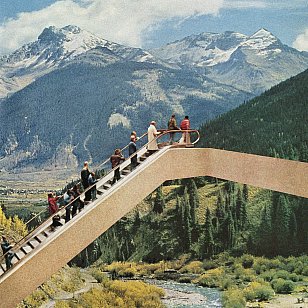 From the same US distribution company Redeye which brought us the languid guitar stoner sound of Jeffrey Alexander and the Heavy Lidders comes with expansively electronic ocean of atmospheric sound and gritty crackling textures.
The project of Cape Town-based Jason van Wyk and Stockholm's Joni Ljungqvist, Deepriver here offer deep and wide sonics which evoke the snow-covered landscapes of the wintry north, vast sweeps of barren Iceland and the limitless breadth of deep space.
The titles include Tides, Coastal, Valley and Slower Waves, so the natural world is a profound influence, although there is a sense of locus and humanity in pieces like Home with a melodic chiming peering through the washes and rumble of the cinematic synths.
The palette here is akin to that heard in the sound design of the better 21st century sci-fi films where a general sense of unease is evident, although Deepriver bring in hefty beats (Valley) to step past the cliches of that genre.
At its most weightless we'd probably drop this into our Further Outwhere pages but there's more symphonic scope here than many of the albums which we locate there.
This is not unfamiliar territory at Elsewhere, but the sheer emotional weight and gristling static these pieces (the enormous play-loud Motion Blur) carry make it something much more than ambient music.
Recommended to the open-eared.
.
You can hear and buy this album at bandcamp here