Graham Reid | | 1 min read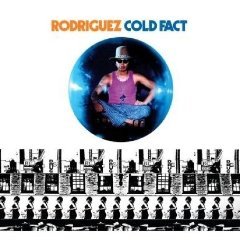 A couple of years ago at Elsewhere, mostly for my own amusement, I started posting tracks by this Mexican-American Seventies cult figure who only did a couple of albums (although also managed a 1993 At His Best compilation long after he had faded from view)
I had been introduced to his stoner charms by an Australian. Which makes sense because Rodriguez was never big in the US and after this album from 1970 rose without a trace and his follow-up Coming in from Reality two years later tanked completely he quit the music game.
But in Australia and South Africa there was a groundswell (unbeknown to Rod) and the albums became cult classics.
Most people thought he was dead (he was alive and well and living in Detroit) and it wasn't until the late Nineties that he was located, toured and . . . Well, still very little happened until a few years ago when his song Sugar Man was picked up by David Holmes who put it on a compilation.
They could have asked me, I've been playing this guy's stuff for a decade to bewildered but impressed friends - and then more recently at Elsewhere.
So what's the appeal? Imagine a stoner day-glo Dylan in '70 beneath the lava lamp rambling on about the coke-streets of inner city Amerika, the Man, the Establishment, what's goin' on your mind, maaaan . . .
He's here to crucify your mind.
Some find him funny, some just take another hit of the bong and find deep meaning within.
Either way, Elsewhere is delighted to report that this cult classic has been resurrected - and apparently it comes with a 36-page booklet of photos and such.
That'll be cool - but really it's all in the gooves, maaaan.
Sffttt.
PS: Trevor Reekie at National Radio did a phoner with the great Rodriguez here.