Graham Reid | | <1 min read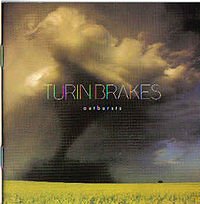 The British duo of Olly Knights and Gale Paridjanian -- aka Turin Brakes -- don't seem given to "outburst" as this album title suggests: they were originally an acoustic-driven outfit whose sound got bigger by musical embellishment, but always seemed considered, thoughtful and prone to restraint.
They were, for a while anyway, the more interesting Coldplay or Starsailor without quite the soaring Jeff Buckley-like vocals. Pretty nice in other words, and they always did more with less.
Things seemed to go a little wobbly after their The Optimist LP (they are interviewed at that time here) but this album, mostly free of "outbursts", finds them back on form with a collection of discrete songs which touch at some of those earlier references (acoustic with embellishment, Coldplay-balladry, slight Starsailor soar) but you can hear also Beatlesque harmonies (Paper Heart), something akin to a beautiful kd lang-like ballad (The Letting Down) and some Anglofolk finger-pick'n'strum elements.
With a sprinkling of early Simon and Garfunkel, (if rather too much of dash of Cohen/Buckley's Hallelujah on the verses of Rocket Song) and some classy arrangements, Turin Brakes have gone back to doing what they do best: writing smart songs and singing them from the heart.
Very pleasant, but intelligent too.