Graham Reid | | 1 min read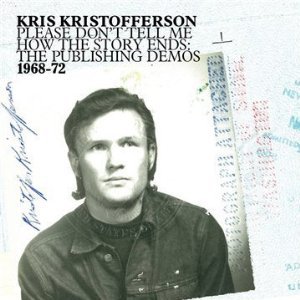 Elsewhere agrees with itself that Willie Nelson makes too many albums these days (although the last one Country Music was excellent). But the collection to return to repeatedly is Classic and Unreleased, a '95 Rhino box set of Willie's early years.
In it you can hear the gifted songwriter that everyone recognised, and the utterly personal style and delivery he brought to originals and songs by Hank Williams and others.
This single disc by Kristofferson -- subtitled "the publishing demos 1968-72"-- is like that: it opens with a broken, world-weary demo of Me and Bobby McGee in a tiny studio with an organ backdrop (inspired by seeing Fellini's bleak film La Strada); moves through the title track (with just acoustic guitar) which is again wise and weary beyond Kristofferson's years (he was in his mid 30s) and Smile at Me Again with Stephen Bruton . . .
All these previously unreleased demos show the depth of emotional experience and astute, sympathetic observational quality Kristofferson would bring to a lyric or narrative: in The Lady's Not For Sale he sings "she tried to spread her tender wings and never left the ground, so she turned to dreams at sweet sixteen and woke up coming down".
Stories about girls on the wrong side of conventional morality (Little Girl Lost), the death of a junkie (Billy Dee) and rootless characters (Just the Other Side of Nowhere) were hardly common themes in Nashville at the time . . . but Kristofferson had seen a lot of the world beyond country music and was a mature songwriter with a Rhodes scholarship . . . and a janitor's mop in one hand, a joint in the other.
In the liner notes (which include lyrics and Kristofferson's observations on the songs), Kinky Friedman notes that Kristofferson was like Gram Parsons, a guy who knew the emotional history of country music but took it in another direction by making it intellectual and literary. He wrote short stories in a few spare images, and he wasn't going to be constrained by tradition (the witty but important statement of intent If You Don't Like Hank Williams in which he acclaims Dylan, Johnny Cash, Waylon, Bobbie Gentry, the Beatles et al.)
Kristofferson has frequently said he's been lucky for a guy who can't sing and plays poor guitar (these demos are evidence he is a fine singer), but he brought something more to his songs than either of those shortcomings .
Kristofferson brought himself -- a man with hard-won experiences -- to his lyrics and let the songs speak through that person, and persona, with a rare sense of truth and honesty.