Graham Reid | | 2 min read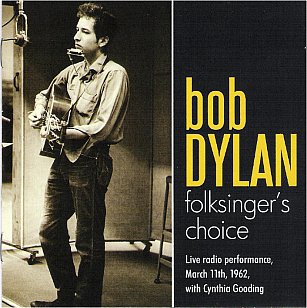 One of the revelations of the first of Bob Dylan's Bootleg Series was the maturity of his voice for one so young. Songs like Moonshiner showed a wisdom and understanding well beyond his years.
And this remarkable, and previously rare, album confirms that point -- and many more about the young Dylan and how he saw himself. Not as a folksinger, he says in one of the interesting snippets of converation between these songs which were recorded in early '62 when he was only 20.
Folksinger's Choice is an album of live tracks recorded for the Cynthia Gooding's radio programme although no one seems sure whether the show was actually broadcast. An album apparently appeared at the time but disappeared very quickly. It has sometimes seen re-release but again disappears (maybe because Dylan's longtime label is powerful, litigious and protective).
My guess is if you are interested in Dylan you should jump on this fast before . . .
Among the 11 songs here are the only known Dylan recordings of Smokestack Lightning, Woody Guthrie's Hard Travelin' and his own Roll On, John. And what is interesting is how steeped in the blues he was, even at that age. His version of Bukka White's Fixin' to Die is utterly convincing, as is Smokestack Lightning.
Elsewhere is the first recorded versions of The Death of Emmett Till. His debut album was some months away.
He obviously got on well with Gooding who says she saw him three years previous when he wanted to be a rock'n'roll singer (he denies that) and he jokes about his holder for his mouth organ, gets typically elusive about his background and makes up a history for himself -- but repeatedly says he doesn't consider his songs "folk songs", he just considers them "contemporary songs".
More than just an archival document -- it comes with excellent notes on each song -- this album is an insight into an artist who really did seem to arrive in the world fully-formed and as old as he was young. As Gooding notes of Emmett Till, which Dylan says he wrote last week, "it doesn't have any sense of having been written, it just came out, it doesn't have any of those poetic contortions . . ."
For your further information here is the full track listing.
1. Lonesome Whistle Blues (Hank Williams/Jimmy Davies)
2. Fixin' To Die (Bukka White)
3. Smokestack Lightning (Howlin' Wolf)
4. Hard Travelin' (Woody Guthrie)
5. The Death Of Emmett Till
6. Standing On The Highway
7. Roll On, John (trad., arr. By Bob Dylan)
8. Stealin', Stealin' (trad. arr. Memphis Jug Band)
9. Long Time Man (trad., arr. by Alan Lomax)
10. Baby Please Don't Go (Big Joe Williams)
11. Hard Times In New York Town