Graham Reid | | 1 min read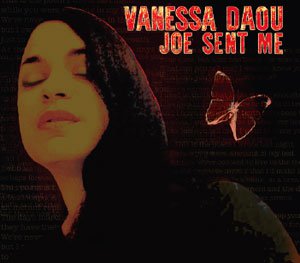 My dad always used the phrase "Joe sent me", it was the old password to get into illegal bars and speakeasies and the implication was that you were gaining access to the illicit, and therefore rather seductive, world on the other side of the door.
Vanessa Daou's breathy, sexually-fuelled electronica offers an entry to that kind of world. Her music oozes sensuality, suggests forbidden pleasures, and promises a very enjoyable, safely hedonistic time indeed where the lights are dim and the outline of entwined bodies writhe in slo-mo.
Yep, Daou delivers a wonderfully seductive line in electro-sexual-noir and her '94 Zipless is an Essential Elsewhere album.
But there has always been more to New Yorker Daou than just purple sexuality: she has a poetic sensibility and her albums often include spoken word (whispered word) pieces over a soundbed of soft electronica. Here on Hurricanes she weaves a fragmented narrative of uncertainty and confidence, masculine and feminine, and of the power of giving oneself to love over a bed of distorted keyboards and ticking percussion.
But mostly here are aural signifiers of sex and sensuality with images of beds, "all the pleasures of the tongue", love among the litter, hot skin, and a speakeasy where the password is "sin".
These images, imagistic songs and narratives taken together address existential issues, the nature and dangers of the emotional life, all wrapped in warm, hazy, jazz-influenced grooves and tone poems where a soft saxophone weaves a melodic line line (Love Lives in the Dark), angular drums keep you on edge and electronic keyboards lull you gently.
Daou's music is hypnotic, European in consciousness with a steamy Latin quality. It's quite something.
Available from Daou's website here.