Graham Reid | | 1 min read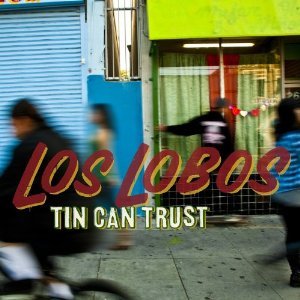 Los Lobos have always had a propensity to revert back to being a bar band (albeit a well produced one with terrific guitar playing) and that is their default position too often here for this to be truly satisfying -- and some dreary lyrics . . .
"Down Main Street/down easy street, it's when I feel at home"; "Little darling I can't buy you gold rings and things"; "If I could turn night into day you know I would"; "Survive in this world, in this crazy life, gotta give it a whirl" . . .
No one expects pure poetry in rock music, but these are cliches. And two songs use the "burning" metaphor: Burn it Down with Susan Tedeschi, and All My Bridges Burning co-written with the Grateful Dead's lyricist Robert Hunter. (They also cover the Dead's West LA Freeway).
So what is good? Well, on balance the rest of what is here.
The Hispanic Yo Canto may shave a little off Juanes' huge hit of a few years back La Camisa Nera but it still kicks along, as does the Tex-Mex dancefloor rocker Mujer Ingrata. The Texas blues-rock instrumental Do the Murray (?!?) at the centre initially sounds like a filler but it is incendiary -- and the bluesy moody 27 Spanishes at the end (about the Conquistadors) is a standout for its narrative and churning intensity.
And other tracks -- the crackling electricity of On Main Street, the spacious ballad Jupiter or the Moon -- succeed despite their lyrics.
So an uneven Los Lobos album, but the highpoints remind you just how great they can be.