Graham Reid | | 1 min read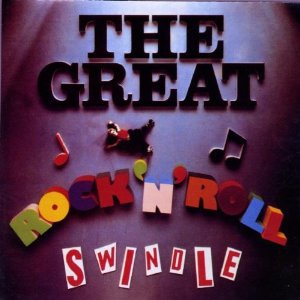 Although very different, Brian Eno and Malcolm McLaren had one trait in common: after the event both would attribute philosophical and/or political meaning to something they had done.
In the case of the late McLaren, the prime mover behind the Sex Pistols -- Johnny Rotten/John Lydon denies he was ever their "manager" -- would have had us believe that the Pistols/punk/anarchy of the late Seventies was all part of some grand, well conceived scheme . . . and was grounded in political philosophies and blah-blah.
To give him his due though -- as with Andrew Loog Oldham who supplied the press with such headlines as "Would you let your daughter marry a Rolling Stone?" in the mid Sixties -- McLaren did have a knack for making up pithy slogans: "Cash From chaos", "believe in the ruins" and so on seem to have originated from McLaren.
The rise and spectacular fall of the Sex Pistols in such a short period left McLaren with a wealth of anecdotes and some unreleased nonsense recorded before the chaos struck . . . and nowhere to put them. He also knew there was cash to be made.
Hence the film The Great Rock'n'Roll Swindle which was a pastiche of footage, animation and a mockumentary from McLaren's self-aggrandising perspective. It was hilariously awful. Two decades later the Swindle director Julien Temple made The Filth and the Fury, a more interesting and honest account from the band's persepctive.
By the time the Swindle film was rolled out the band were long gone and Rotten/Lydon has not wanted to have anything to do with anything associated with it.
The double vinyl soundtrack therefore found some of Rotten's early vocals plastered over new backing tracks by those last men standing Paul Cook and Steve Jones, along with tracks by the long forgotten Ten Pole Tudor (the truly risible Who Killed Bambi), the single No One is Innocent (Cook, Jones and Great Train Robber Ronnie Biggs) and, most memorably, Sid Vicious singing My Way.
No one could be remotely interested in Anarchie pour le UK by Jerzimy (Yep, it's in French) or kids singing the title track, let alone Jones singing that old maritime pub favourite Friggin' in the Riggin'.
Maybe Rotten singing the Who's Substitute and the Monkees' Stepping Stone are still interesting?
Somewhere among the 24 tracks (on single CD) is a decent EP -- and it wouldn't include the Johnny B Goode/Roadrunner medley where Cook and Jones self-consciously riff around.
McLaren also coined the phrase "the only notes that matter are the ones that come in wads".
Not true -- as this pastiche of cut-offs, padding and cash-in proves.