Graham Reid | | <1 min read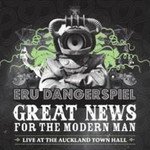 The Eru Dangerspiel rock'n'rolling caravan of soul, funk, reggae and more is helmed by Riki Gooch, formerly of TrinityRoots and here, recorded live at the Auckland Town Hall in August '09, the whole huge ensemble invited you to "leave your shit at the door" and get down with their good time grooves.
With an extraordinary line-up of talent -- Jonathan Crayord on keyboards, jazz players like Nathan Haines and Lewis McCallum, drummer-for-all-seasons Ross Burge, singers Anna Coddington and Whirimako Black among them -- these are lengthy workouts: seven and a half minutes of the wah-wah soul-groove Sun Again being the shortest; the closer Sambaskool Dropout reaching 17.
There's a spiritual side here too in suggestions of gospel woven through the relentless surge of Sun Again, and everywhere you feel you wished you had been there. To get closer to that experience this also comes with a beautifully shot concert DVD (with terrific sound and excellent editing, up-close images and lighting).
Excellent package on every front.
Dressed in pith helmet, Gooch is like a sonic explorer taking his party mood to the people.
And if you want to get even closer to the real thing, Eru Dangerspiel are doing their party thing all over again: at the Auckland Town Hall on October 8 and the Wellington Town Hall on October 9.
And there are prizepacks of return flights, tickets. merchandise, accommodation etc at Loop here.