Graham Reid | | 1 min read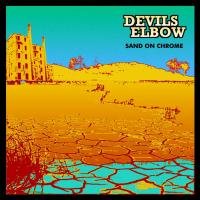 This raw, sometimes wilfully ragged and largely terrific duo of Alec Withers (vocals, guitars) and drummer-singer Andrew Gladstone formerly in Garageland (and a couple of friends in places) deliver up hook-filled alt.country rock which owes a nod to Joe Strummer as much as Steve Earle, and they also possesses that free-wheeling spirit which made the Replacements so special.
As with the Replacements, they have melodies to burn and they are delivered by Withers who sounds like he's been gargling rusty nails and brandy. Which means when he delivers that title track line he sounds utterly convincing.
Recorded by Ian Morris (Th'Dudes, Dave Dobbyn, Hello Sailor) in the duos home turf of Hawkes Bay, they are here captured in all their taut authenticity.
Over hard hit guitars and sharp drums, these are often songs of anger and urgency (You Did It Again) which sometimes sear off into compelling alt.rock (the collar-grabbing opener Brainstorm, Case in Point, The Hard Part).
But they are also as comfortable on a weather-beaten ballad (Infectious, When You're On Top) and the brief Embargo opens the door into that world of acoustic reverie Dylan explored on the Pat Garrett and Billy the Kid soundtrack.
They also have something to say: "you could try and satisfy the dream or you could live with what could have been" on the chime'n'grime of the air-punching These Days.
If characters like Earle (in his rocking country mode), James McMurtry, Joe Ely and Ryan Bingham mean anything to you these guys -- who opened for Grant Hart on a recent New Zealand tour -- are definitely in your zone . . . which is the borderline between tough country and indie.rock.
When they come to a bar near you, don't miss them.