Graham Reid | | <1 min read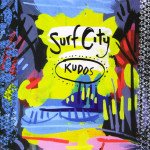 Possibly because this young Auckland four-piece have all that rolling energy of early Flying Nun acts (the Chills and the Clean especially) but turn it up to 11 and make it fat, it has hijacked my stereos (home and car, I take it for drives).
They deliver such a thrilling racket it's hardly surprising they've been picked up by college radio in the States, and played shows at the all-important CMJ Showcase in New York.
In these 11 songs -- 45 minutes all up -- you can hear what the Americans are picking up on, that next generation on from the early Nun days (the sons of Nun?). But they are much more than that: they deliver with the sonic firepower and density of Jesus and Mary Chain and their music can be like Ramones-styled power-pop racked up a few notches and buried behind a wall of guitar noise and sonic effects.
You could spend time analysing this and cite the bands reference points, but that's enough for now. Just turn it up loud and it speaks for itself.
Right now in New Zealand The Naked and the Famous are (quite rightly) getting a lot of kudos.
But here is a band with Kudos of its own. Louderer!