Graham Reid | | 1 min read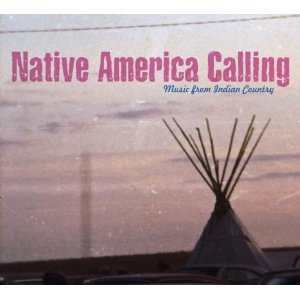 A few Native Amercans have appeared previously at Elsewhere: the late jazz saxophonist Jim Pepper has an Essential Elsewhere album with Comin' and Goin'; the activist, poet, singer and actor John Trudell is interviewed here; and the great Buffy Sainte-Marie appears at From the Vaults with this track from an album which equally might have made the Essential Elsewhere cut.
A few "Native American" albums have been sent to Elsewhere but most were vacuous New Age "healing" music and chants, and you wondered just how much (or little) input Native Americans had had.
This collection -- 22 tracks which includes one apiece by Pepper (his chant-like call-response Going Down to Muskogee from his Remembrance album) and Buffy Sainte-Marie (No No Keshagesh from Running for the Drum) -- puts contemporary artists right in the frame and the music is often at some distance from those New Age albums.
Her artists work with subtle electrobeats, suggestion of chants, reggae grooves, offer spoken work of emotional power and use steel guitars alongside traditional drums.
Robert Mirabal kicks it off with Indians Indians (a litany of very different types of Indians which reminds me of Selina Tusitala Marsh's poem Fast Talking PI); there is soulful blues from Pura Fe which leads into a tribal dance; Joanne Shenandoah offers a beautifully pure I May Want A Man (in Iroquois and English, note the "may" however); there is rapid-fire acoustic strumming behind Morley Loon's Dihinoo . . .
Here too is the a cappella trio Ulali (Pura Fe with Mahk Ichi and Shanoojhee), the late rock'n'roll guitarist Link Wray (Shawneee, best known for his raw The Rumble) with an acoustic Shawnee Tribe, and Keith Secola with his "pow-wow rock" Indian Cars.
There is powerful anger here of course: the thumping nu-metal of Blackfire on Is This Justice? (who follow it with a traditional dance chant) and edgy hip-hop from Juilan B with Once Upon a Genocide.
There is also dark humour too (Columbus got lost in our neighbourhood, says Sainte-Marie in her angry denouncing of uranium mining).
With good liner notes which give a little background to the artists and organisations which help the plight of native Americans on the rez and elsewhere, this is an important and enlightening collection which shoves those New Age things well into the shade.
You might also be interested in this story with regard to Native Americans.