Graham Reid | | <1 min read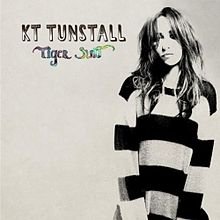 Word is that a campervan trip around New Zealand in 09 and appearing at Neil Finn's 7 Worlds Collide reinvigorated Scottish singer Tunstall who leaped to fame overnight when a Jools Holland show six years ago. Her folksy 06 debut Eye to the Telescope captured hearts and attention, but Drastic Fantastic two years ago seemed anxiously over-produced.

Those wanting a return to folksy singer-songwriter will reel at the first two tracks here, Uummannaq Song and Glamour Puss, which are driving electro-beat pop. Glamour Puss could be a killer single, but Push That Knot Away which follows is the ace: a dark, dramatic piece which surges relentlessly and leads naturally into the grit-guitar and synth-pop of Difficulty.

Recorded in Berlin's Hansa studio where Bowie and U2 recorded Heroes and Achtung Baby respectively, Tiger Suit has Tunstall taking well-crafted songs and toughening them up for the dancefloor and radio. Fade Like a Shadow and Come On Get In are pure pop, but elsewhere she reverts to other types: Lost is a strong, dreamy ballad; Golden Frames opens as eerie country blues with Seasick Steve; Madame Trudeaux is an edgy Dylanesque stomper with Robyn Hitchcock on slide guitar and gritty sneer in her vocals . . .

Tunstall sounds like she's enjoying her re-invention as alt.electro-rocker. Live these must go down with raw power. Very cool.