Graham Reid | | <1 min read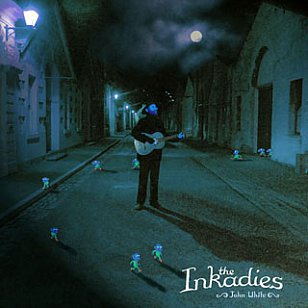 This album could slip past as easily unnoticed as White's recent New Zealand tour, it whispers rather than shouts, is mostly dreamy rather than grounded.
Formerly out front of Dunedin's Mestar, White recorded these airy but sometimes fuzzy, acoustic-framed songs in Wisconsin three years ago and apparently this one follows two previous albums.
Over the 11 short Anglofolk-styled songs (none more than three minutes, most less than two) White's soft and high voice doesn't explore much range beyond weightlessness, so it is down to synth drones (by producer Tom Hanson) to provide some musical breadth.
But this is never less than interesting, sometimes stands at the midpoint between early Donovan and early Bonnie Prince Billy, and over repeat plays the slightly disconcerting tunings and sonic settings (the distant "thunder" on The Fields, the vaguely creepy Juvendee Hill) or gentleness (The Boy That I Saw on That Day, Little Blue Bird which sounds an incomplete idea) make themselves known.
But for me it is the more widescreen and textural pieces (the fuzz-pop of Distant Dreams and Morning Stars, Bayo Fowvin) which grip, and I note Distant Dreams has been the first lifted off for a video (see below).
As for the rest, interesting, but . . .