Graham Reid | | <1 min read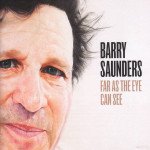 More than just a compilation of tracks from his various albums and radio sessions (including some from his excellent Zodiac album), this collection of songs by country-inflected singer-songwriter Saunders was a prompt for various painters and visual artists.
Wellington curator Ron Epskamp of Exhibitions Gallery (here) invited 14 artists to interpret Saunders' lyrics -- and their works are reproduced in the booklet along with the artists' brief statements about why the art has taken the shape it has. Some are humorous, others mythical or mystical and a few figurative.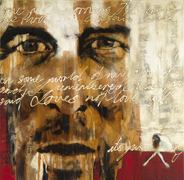 The paintings will be released as prints shortly.
Meantime though here is a collection by one of New Zealand's most consistent, intelligent songwriters who can tell an allusive story or take you on a journey.
A nice package in every way. Let's hope this idea catches on, you could imagine some fascinating art using songs by Neil Finn, Miriam Clancy, the Bats, Graeme Downes, Dudley Benson, the Tokey Tones . . .
(Right: One Red Morning by Alison Coulthurst. Mixed media on canvas, 120 x 120cm)