Graham Reid | | 1 min read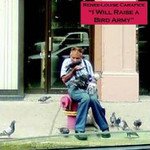 There is no doubt life has been difficult for Renee-Louise Carafice, her previous album (here) was born out of clinical depression and time in an institution . . . and this one addresses the break-up of a relationship (which she concedes was always flawed) in chilly Chicago.
Art wrought out of such personal crises can often be therapetic of itself but may not necessarily engage an audience, especially those who haven't been clinically depressed or who have just toughed it through a break-up with no need to expose every emotional sinew.
Carafice is a rare one however, by giving so much of herself away right from the opening track (A Kick in the Head which is a litany of woes from the lousy job to weather and of course the lost love) through her wobbly vocals over the leanest of arrangements personalise these songs and draw you in.
Not everything works ("let's go break somebody's nose to pretend we have power" is delivered with all the quiver of a parody artist like Anna Russell so much so I laughed aloud, and the title track is a dirge).
But she certainly takes you on a journey through a life of bitter and indifferent weather/people, and home being some distance away. She marries them to discreetly clever arrangements for spare piano and slightly disconcerting percussion (courtesy of Jamie Stewart from Xiu Xiu who saves this album from tedium.).
This is not an easy album and frankly I prefer her debut. It isn't so much indulgent as mining a fairly narrow vein of emotion which, over 10 tracks, turns in on itself. And that makes it tough, and a frequently unrewarding, call.