Graham Reid | | 1 min read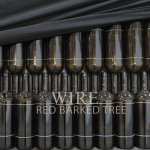 In the late Seventies Wire delivered a trifecta of classic post-punk, minimalist and arty albums -- Pink Flag, Chairs Missing and 154 – then called it a day. In subsequent decades they reformed dropping drummer Robert Gotobed to appear as an alt.electro-rock outfit (not much cop), in the past decade their sound became more aggressive and impressive, Gotobed returned -- and now Bruce Gilbert is out.

This incarnation of Wire refers back to that classic period for its elemental minimalism (the aural deja-vu of A Flat Tent) and brevity of songs (only one the 11 here passes five minutes, four under three). But there now is a streamlined sheen and the opener Please Take ("your knife out of my back") is close to first-phase Roxy Music or early Eno. Later Adapt and Bad Worn Thing are cut from similar cloth, and Clay is a relentless dark pop delivered over increasingly noisy guitar.

But – aside from lyrics throughout which are disconcerting, droll and sometimes sharply witty – there are blasts of their more recent musical menace here too: Two Minutes is mad but disciplined guitar thrash; Moreover and Smash are crafted Erasehead-grind metallic pop; the brooding Down to This rides on electrostatic and repeated guitar and keyboard phrases.

Smart, sharp, approachable and economic, Wire again give art-rock a very good name.
Like the sound of this? Then try this.
FOR OTHER 'BEST OF ELSEWHERE 2011' ALBUMS GO HERE.