Graham Reid | | 1 min read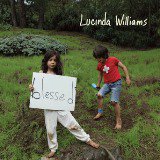 Although Lucinda Williams admits things are going well in her life (see interview here), she also adds that no one is ever permanently happy and she lives in this world with all its sadness and misery.
And she has had a few encounters with those things herself, notably the estrangement of her brother after the death of their mother, and the death by suicide of Vic Chesnutt a few years back. And of course she lives in a country at war.
All these matters get addressed on this album which veers between rage (at Chestnutt and ourselves on Seeing Black, with Elvis Costello playing incendiary guitar) to a sensitive open letter to her brother in I Don't Know How You're Livin' (which follows a similar plea to him with Are You Alright on West).
She delivers a lovely, emotionally naked ballad about the sudden death of her former manager (Copenhagen) but equally nails those who would retreat from life in a fug of drugs, alcohol, sublime isolation and anger (the low menace of Ugly Truth which is a more aggressive stance than her more sympathetic treatment of the same idea in Little Rock Star, on Little Honey). She conjures up that righteous rage which fueled some of Dylan's most venomously personal songs in the mid Sixties.
And among these pivotal point are other standouts: the gorgeous, bluesy Born to be Loved which you'd wish Billie Holiday were alive to sing ("you weren't born to be abandoned/forsaken/mistreated etc, you were born to be loved") and the title track in which she gives thanks to all those who offer their gifts or pain to us which adds breadth to our life experience. Awakening has an almost religious import in its lyrics, and throbs with restrained emotion but allows the crashing guitars at the end to unleash the cathartic quality it demands.
Sweet Love is as pretty and delicate a grace-filled country ballad as you are ever likely to hear.
Only Soldier's Story -- where she puts herself in the place of someone dying on the frontline -- seems strained. Well intentioned, but a stretch beyond the often personal experiences which drives the best here.
Another Lucinda Williams album which explores the inner terrain but then pulls it into the world for close examination.
Few musicians have so consistently offered self-examination so convincingly, and without resort to self-pity.
Lucinda William's album Blessed comes as a standard CD and as a special edition with a bonus disc of her acoustic demos. To buy the standard CD go here, to buy the special edition call your nearest JB Hi-FI store here. Post free within New Zealand.
Like the sound of Lucinda Williams? Then checkout this woman.
FOR OTHER 'BEST OF ELSEWHERE 2011' ALBUMS GO HERE.