Graham Reid | | 1 min read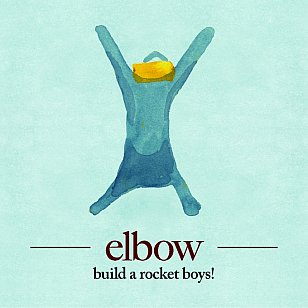 It's interesting to read the comments at Elsewhere after the previous Elbow album The Seldom Seen Kid in 2008 (which won them the Mercury Award that year): essentially the thread was, how come these guys aren't bigger?
Good question, and maybe this one -- more reflective but still as gorgeously delivered as their previous outings -- will rectify the oversight.
Guy Garvey here looks at how life changes -- our world, friendships from childhood, once familiar places -- and tries to come to terms with all of that in music and lyrics which never err to the insipid or sentimental.
The title comes from the chorus of the ballad Lippy Kids (about the need for flight from the past and present where "nobody knew me at home any more") which Garvey sings as if a chorister on a street corner where cheeky kids gather.
Garvey has said the album was prompted by him moving back to where he grew up in Manchester, and some of that "you can't go home anymore" sentiment is infused into these 11 songs.
The spare With Love -- Garvey out front of a nagging guitar part and choir-like backing vocals, then multi-tracked -- also reflects the tone of "love will find you out" and brings to mind the layered vocals of the Housemartins and Blue Nile.
Neat Little Rows -- the single from an album which is less about individual songs than overall feel -- is a more aggressively assertive piece where sentiment is shorn away in lines like "lay my bones in cobblestones, lay my bones in neat little rows" -- although it also locates the singer in his place.
As befits an album which is very English, Jesus is a Rochdale Girl comes off as a gentle, almost pastoral ballad, yet the lyric about the mundane (shopping carts) and "nothing to be proud of" once again undercut what you think you are hearing.
And that is the way of it with Build A Rocket Boys!
From the disconcerting minimalism of The Night Will Always Win through the ear-pinging percussion and subtle, shifting arrangement and imagery of High Ideals ("there's a bayonet in my family things, made in the USA to defend the King") to the restful Dear Friends at the end where Garvey offers some solace and resolution ("you are the stars I navigate home by"), Build a Rocket Boys! is a rare album of deep reflection, beautiful arrangements and thought-provoking lyrics.
A real keeper.
Like the sound of this? Then check out this guy.
FOR OTHER 'BEST OF ELSEWHERE 2011' ALBUMS GO HERE.