Graham Reid | | 1 min read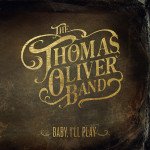 As with his fellow Wellingtonian Darren Watson, Thomas Oliver is a finalist in the blues category of the International Song Writing Competition to be judged in April 2011.
The song is Goin' Home - which kicks off this rootsy, bluesy and alt.country-tinged album -- and the video of it released a year ago was named among the top 30 internationally at the Rushes Soho Shorts in London, and it won the 2011 Best International Video and Best Blues Music Video 2011 at the Australian Music Video Awards.
With some the guitar sting of Albert Collins in places (Still Insane), the broodiness of alt.country (Bad Talkin' Man), some more reflective pieces (the nicely droning Take My Word over acoustic guitar and E bow) and barroom pleasers (the wah-wah driven title track, World on a String with skewing slide) this album covers a lot of distinctive territory.
No Sign of You has all the haunting musical quality of early Sixties Chicago blues, The Strangest Feeling I'm Home coms with the observational quality of James McMurtry and Springsteen.
One of These Days seems rather too familiar from so many Middle American rock bands however.
This is a band which sounds thoroughly tight but rough-edged and road-tested: Drummer Scrase delivers with the accuracy and power of a nail-gun when required; there is solid and inventive bass playing (Steve Moodie on electric and upright); and with saxophone (Matthew Benton), Hammond organ (Ed Zuccollo) and a variety of guitars (Oliver and Andrew Moore) there is also plenty of musical texture and colour here too.
And Oliver can go from a whisper to a scream.
So if the word "blues" has the effect on you that "jazz" does on some, put aside preconceptions: There is some blues here, but this is a fine collection of tautly delivered rootsy rock.
Must be impressive live.
Like the sound of this? Then check out this.
The Thomas Oliver Band play album launch shows here:

March 26: Dogs Bollix, Auckland
April 2: SFBHouse, Wellington
April 8: Marbecks, Palmerston North
April 9: Thirsty Whale, Napier