Graham Reid | | <1 min read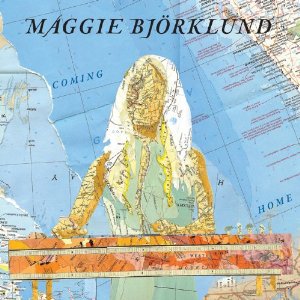 Joey Burns and John Convertino of Calexico have become something of a mark of quality when it comes to spacious sounding albums. They certainly showcased Marianne Dissard in that way and here -- even though they don't produce -- they appear with acclaimed pedal steel player Bjorklund from Denmark on an album which has all the spaciousness of Tucson skies, albeit a little more chilly than sunbaked in places.
With guests Mark Lanegan (two tracks), Jon Auer of the Posies (another two) and Rachel Flotard (yep, also two), Bjorklund's soft but assured vocal take second place to her slightlydelic desert-blown songs with mysteriously poetic lyrics about displacement, the unfamiliar and strange dreamlike memories, all of which are coloured by weeping or melodic pedal steel.
In places this doesn't move too far from an alt.country template (The Anchor Song) but the instrumentals Isekt and Frost suggest a very strange movie being played out in small, deserted towns in Arizona and as Ry Cooder doesn't want to do soundtracks any more Bjorklund could be the next go-to person.
Finale at the end is for when the credits roll.
Like the sound of this? Then try this.