Graham Reid | | <1 min read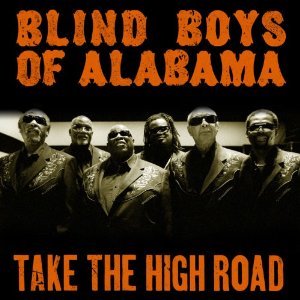 The on-going career of the Blind Boys -- now well past the half century mark -- takes an interesting turn away from the bluesy and soulful sounds they embraced in the past decade. Here they team up producer Jamey Johnson for an album which pulls in country artists to sing and testify on material which has the overt religious commentary but also digs deep into very human problems.
So here are the Oak Ridge Boys (the title track, not the strongest here), Lee Ann Womack (the quietly self-flagellating I Was a Burden), Vince Gill (the rural sounding Can You Give Me A Drink? with harmonica player Mickey Raphael, and not what you think but about Jesus on a pilgrimage), Willie Nelson (the standard Family Bible) and Hank Williams Jnr (on his father's joyous I Saw the Light).
Of the tracks with just the BBoys, Jesus Hold My Hand gets a delivery as raw as anything by Ray Charles, Jesus Built a Bridge to Heaven is positively uplifting over a real cowboy backdrop and Lead Me Home is a holy moment as death descends and a new life opens up to the sound of pedal steel guitar and gentle organ.
The BBoys have constantly broadened their platform from traditional gospel and this spiritual-country makes perfectly good sense.
Like the sound of this? Then check out this.