Graham Reid | | 2 min read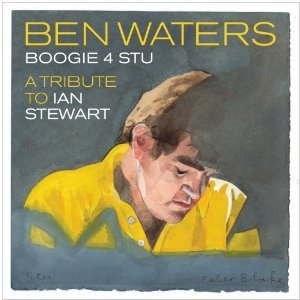 If nothing else -- and there is more "else" -- this album should attract attention for the version here of the Bob Dylan-penned track Watching the River Flow which features, for the first time since '92, the Rolling Stones line-up with former bassist Bill Wyman.
Okay, Jagger did his vocals and harmonica parts in France, Keith his guitar in New York and Wyman added his bass later, but here they are again . . . Ladies and Gentlemen, The Rolling Stones.
And they sound right on the money with Jagger dragging his vocal line out on his most impressive performance in many years.
Elsewhere Keith and Charlie and Ronnie Wood turn up on other tracks, as do PJ Harvey, Jools Holland and various horn players. And the album comes in a cover by British artist Sir Peter Blake (who did the covers for Sgt Peppers, Paul Weller's Stanley Road and Oasis' greatest hits Stop the Clocks among others).
So how come this celebrity collision on an album by someone you have probably never previously heard of?
The answer lies in the title, and subtitle "A Tribute to Ian Stewart" who was the Stones' original pianist and later road manager. Stewart (aka Stu) was a profound influence on the young pianist Ben Waters (only 35 today) who was invited to sit in with Stewart's Rocket 88 band after Stu's death in '85.
Long wanting to pay a tribute to his inspiration, Waters rented a small studio to do a solo boogie woogie album, drummer Watts heard about it and wanted in, Waters had to look for a bigger studio so asked to hire Holland's (Jools said "No" . . . but they could use it for free, and he wanted to sit in), then Ronnie heard about, so Waters wrote to the other Stones . . .
Polly Harvey's parents were friends of Stewart so she wanted in . . . Blake was asked because he was a big Stones fan . . . and an album was born.
This isn't a rock album however as Stu was a huge boogie woogie fan (in the manner of Fats Domino) so here are rollicking and rolling boogie piano on Albert Ammons' Boogie Woogie Stomp and Suitcase Blues, Amos Miburn's Rooming House Boogie (with Richards and Wyman) and Worried Life Blues where croaky Keith and Ronnie trade verses (remotely, Ronnie recorded his part before Keith).
But it is Harvey's eerily moody take on Ray Charles' Lonely Avenue (where she multi-tracked the unsettling background vocals and aded sax), and that terrific treatment of Watching the River Flow (the only good song Dylan ever wrote acording to Stu) which command real attention.
But they should take nothing away from the dueling pianos of Holland and Waters on Boogie for Stu (an original, not the Led Zeppelin track Boogie With Stu on which Stu played), nor the low mood Midnight Blues (Watts with Holland and Waters) or their treatment of Big Joe Turner's Roll 'Em Pete with Hamish Maxwell offering raw-voiced blues.
Ian Stewart was never a rock'n'roll man but he was a key ingredient on Stones albums and on tour and this - which ends with a recording of Stewart and his band Rocket 88 at the Monteux Jazz Festival in '85 -- is a fine tribute.
And a lot of fun.
Want to read more about the eccentric Ian Stewart and the story behind this project? There is an in-depth interview with Ben Waters here. And the sample track is the Polly Harvey.