Graham Reid | | 1 min read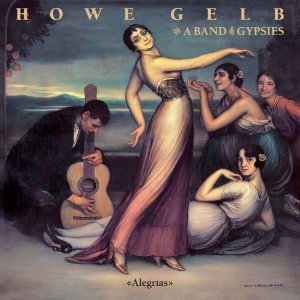 The enormously prolific Howe Gelb (interviewed here in depth) is behind the Tucson band Giant Sand (from which Calexico became a more commercially successful split-off) and has also recorded a dozen albums under his own name.
And as a reissue programme of about 30 Sand/Gelb albums starts to filter through he also releases this, a beguiling project which saw him taking his dark vocals, mysterious lyrics and jazzy piano playing to Cordoba in Spain (which he says is very like Tucson) to work with a group of flamenco master musicians, including Raimundo Amador who has worked with Bjork.
The only common language Gelb and the Spanish musicians had was music.

So here the quietly dramatic sound of flamenco guitars and rhythms are married to Gelb's elliptical lyrics, and the result is exciting and exotic (the heel-clacking Cowboy Boots on Cobble Stone) or seductively surreal (the whispery Blood Orange and Always Horses Coming) and Gelb's baritone has a deep resonance like a country-flavoured Leonard Cohen.

Gelb's mysteriously evocative poetics, occasional angular piano playing and some sublime, understated guitar work – as well as female backing voices in places – add other dimensions to an album which sounds gently baked under the Andalusian sun and is being served at sunset when the sky goes red and cooling wine is poured.
Something quite special, and beautifully packaged too.
Like the sound of this? Then check out that interview with Howe Gelb here.
FOR OTHER 'BEST OF ELSEWHERE 2011' ALBUMS GO HERE.